Shen Ye, Senior Director, Global Head of Hardware Products, HTC • 11.11.21
Today, we're rolling out new features specifically designed for customers using location-based applications. We're excited to offer this set of features on VIVE Focus 3, our all-in-one wireless headset with outstanding visuals and next level inside-out tracking. VIVE Focus 3 was thoughtfully designed to provide capabilities that were not yet supported at launch, and we're excited to be the first to deliver these features in one headset.
Wi-Fi 6E
Traditional Wi-Fi 4, 5, and 6 have operated in the 2.4 GHz and 5 GHz frequencies.
Wi-Fi 6E is a new standard of that operates at the 6 GHz frequency range and brings a wide range of benefits. It's not only extremely low latency and high capacity (perfect for VR streaming), using the new frequency range drastically minimizes the usual Wi-Fi interference that exists. With up to 1.2 GHz frequency range, it can also accommodate more than double the number of devices with their own dedicated channels*–for a numbers comparison, going from Wi-Fi 6 (5GHz) to Wi-Fi 6E is going from 25 to 59 separate 20MHz channels or 2 to 7 separate 160 MHz channels.
They will soon certify VIVE Focus 3 to use Wi-Fi 6E, thus unlocking extremely low latency, high capacity VR streaming capability. VIVE Focus 3 has had all the hardware needed for Wi-Fi 6E since the beginning, so there's no added cost to the headset owner to leverage this functionality. With Wi-Fi 6E, users will experience a smoother, more immersive, and overall better customer experience. We will enable Wi-Fi 6E in the coming months through over-the-air software updates.**As Wi-Fi 6E is still a new standard, availability and channels will depend on local legislation in your country.
LBE (Location Based Entertainment) Mode VIVE Focus 3 can now support tracking across a much larger play area, allowing businesses to leverage enormous spaces and deliver a truly free-roaming experience. VIVE Focus 3 launched with the ability to track up to a 15m × 15m space, for comparison that's between the area of a singles and doubles tennis court.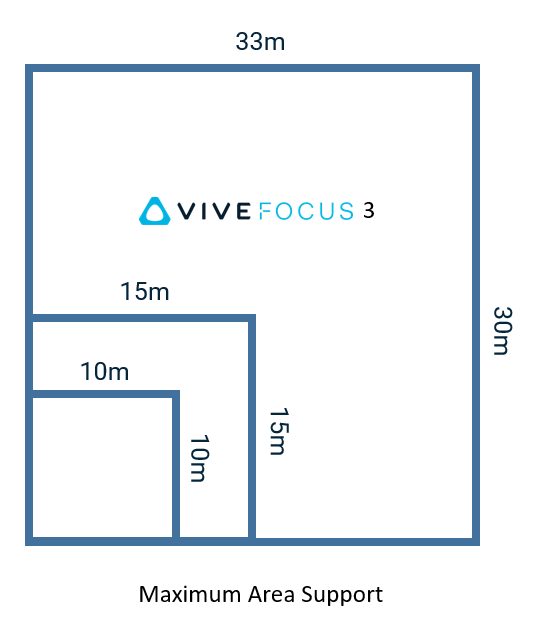 Today we're happy to announce that VIVE Focus 3 will support up to 33m x 30m (or 1,000m2) with smooth and seamless 6DoF tracking, providing greater flexibility to deliver immersive and interesting user experiences. Back to the tennis court comparison, this is the size of four tennis courts. With LBE Mode, you can create a boundary in any shape you want — polygon, L-shape or any other custom shape. Once the map is set up, the experience will be ready for users to dive into. There is no need to set up the map multiple times. They disabled automatic creation of a new boundary in LBE mode, so the HMD (head mounted device) will constantly re-localize in the known play area.
After the setup, the player can always move back to any point of the play area–even in spaces that are bigger than a basketball court. LBE Mode enables customers to create large spaces for VR arcade, arena experiences or large training areas for their users, so the experience is even more realistic.
Map Sharing - VIVE Focus 3 now offers Map Sharing, a hugely requested feature, especially among our LBE customers. It allows multiple users to operate accurate co-location tracking in a shared space, without having to individually setup or calibrate each HMD.

VIVE Focus 3 is the only headset that supports inside-out tracking–making it faster and easier for customers to customize the user experience. Most other multiplayer free-roaming experiences use an outside-in tracking system, requiring users to carry a PCVR backpack and play in a limited space with the Lighthouse system. With Map Sharing and LBE Mode, users can finally run around in the field, provide cover for each other in shooting games or share their different perspectives in escape games. These two features also make it easier to scale large, multi-person visual exhibitions like VR art galleries or professional training areas.To enable Map Sharing, just set up a map with one VIVE Focus 3, and they can then easily share the map with multiple HMDs at the same time. Map Sharing also allows for:
Duplicate single boundary/direction/center of map/floor height to all headsets.
All headsets can work in a single ground truth for localization and tracking without extra calibration required.
VO (Visual Odometry) Mode Visual Odometry (VO) mode enables users to skip the 5-minute environment set-up and begin to immediately go into the 6DoF experience right after they put on the HMD.When you are running a multi-person experience that rotates people in and out, it takes a lot of time when each user needs to recalibrate the headset and start in a specific location in order to start the VR experience.Now, VIVE Focus 3 makes the environment recalibration process faster and easier for users, with 6DoF tracking is available immediately right after the user puts on the VIVE Focus 3. Both the Direction of View and Center of Coordination is set as soon as the user dons the VIVE Focus 3.In VO mode, there is no map saved on the headset. However, no map doesn't mean you can't set boundaries. VO mode can still set up boundaries in VRS settings for the HMD during suspend/resume.VO mode is great for large multi-person experiences like VR exhibitions where you focus on the viewing experience, single player arcade games (where you stand in a static place to play the game), and athlete training (a group of teammates can take turns practicing their skills in an extremely immersive VR environment for the next big game).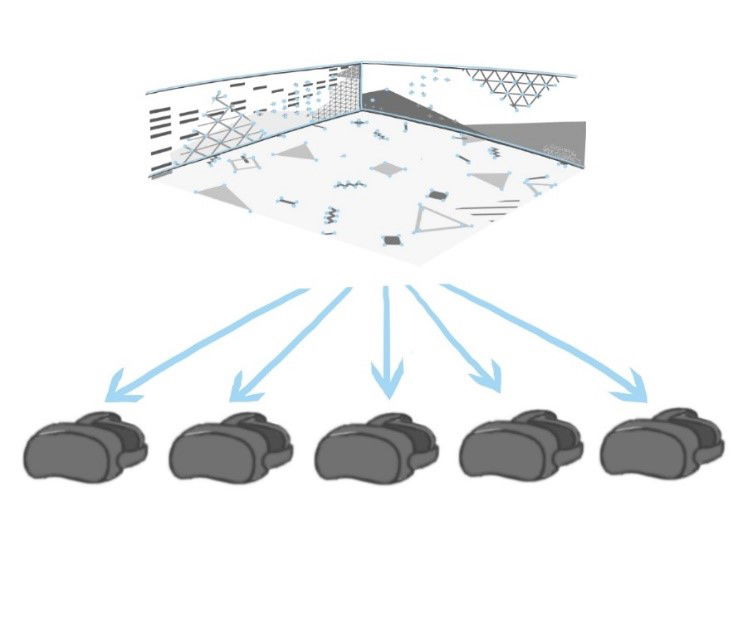 LBE Hybrid Mode The LBE Hybrid Mode enables customers to leverage both VO and LBE mode for large-space 6DoF tracking. From seeing how our headsets are used by our LBE partners, we found around 90% of attendees of LBE social multiplayer experiences require guidance on adjusting the HMD fit, which typically takes place in a prep area. This is where VIVE Focus 3 will be in VO mode, so all they need to do is adjust the HMD. Then, when the group of players moves to the "play area," VIVE Focus 3 goes into LBE mode and the user can immediately start using 6DoF tracking without needing to recalibrate or start in a specific spot in the room.This is ideal when there is a lot of group turnover using the headset, such as for VR arenas or a large VR exhibition where you may have groups rotating to see a work of art.

Additional Customization Options Space CalibratorBased on the open sourced OpenXR Space Calibrator, we'll be releasing a Focus 3 optimised version which enables even more possibilities for immersive experiences with VIVE Focus 3 by enabling support for other tracking systems. Space Calibrator extends the tracked objects beyond the Focus 3 controllers, so now accessories like a tennis racket or any similar accessories can be more accurately tracked.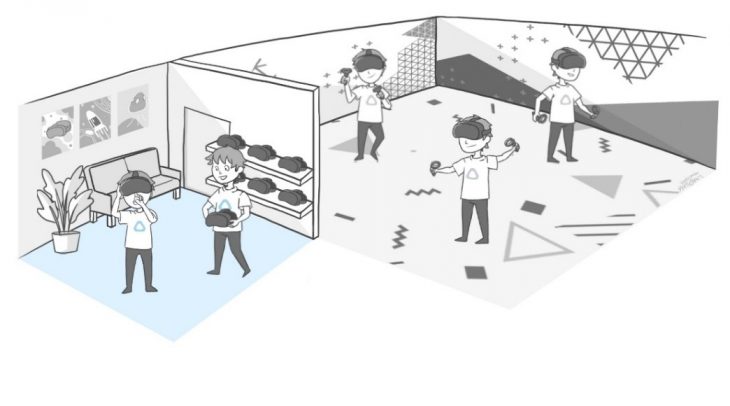 The setup is simple. As an example, here's how you could set up an environment for Focus 3 (with PCVR streaming) working with a VIVE Tracker.Customers can affix a VIVE Tracker to a VIVE Focus 3 controller, as the picture shows. By using our version of the OpenVR calibration tool, you can use its SteamVR overlay to start the alignment process. Hold the Focus 3 Controller and VIVE Tracker combo, and wave them in the shape of a rotated figure of 8 or an infinity sign. When you're done, the VIVE Tracker will be accurately aligned in the same space as the VIVE Focus 3 tracking system.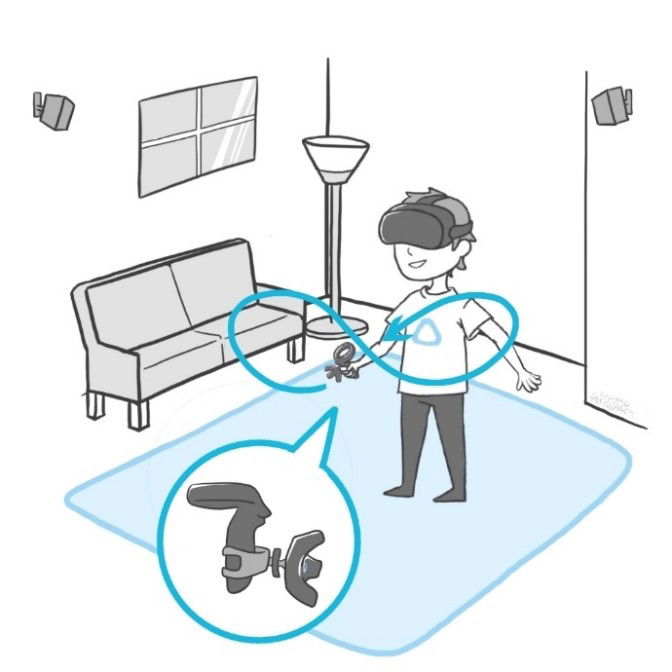 Disabling pop-up messages Ability to disable warning notifications such as "no boundary set up," "no controller connected," and other related messages that could interrupt a user. No floor detection Enterprise users can manually define the floor height to what they need. Map number customization We will also be enabling support for multiple maps to be stored on VIVE Focus 3, up to three per headset.
Do you like our news? Give us a 5-star rating and review on Google to show your support for the website.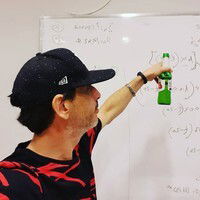 You should also check out the following articles: