Yes! Creators are now eligible to exchange their tokens for REAL MONEY. In fact, we've just cashed out several creators prior to publishing this article. Our creators have had such a tremendous impact on Rec Room that we wanted to enable them to turn their tokens into real money. Now, we're introducing that system to you here.
Eligible tokens are those that were earned from selling Premium Inventions and Keys; You can view them on your Rec.net profile page. Sorry, but you're not cashing out of the tokens you earned while glitching 3D Charades. When it comes to spending your tokens in-game, your eligible tokens will be used last. For example, you've earned a total of 500 tokens from playing paintball and 1,000 tokens selling Keys. You're so happy about your success that you want to buy the 'I <3 RR' shirt that costs 600 tokens. When you make that purchase, it will first use the 500 tokens earned from paintball, then use 100 from keys. We built it this way so that you can continue to spend your tokens but retain as much of your eligible earnings as possible. Neat, huh?
Creator Compensation
Let's get down to business. First, the current exchange rate is $0.0004 per token, or $400 for 1 million tokens. You can currently exchange in chunks of 1 million tokens—up to 25 million tokens—once each month.
Here are additional requirements:
- Your account is at least 30 days old
- Your account is not a Junior account
- Your account has a verified email address
- Your account has an active RR+ membership
- You haven't been banned in the last 90 days
- You are not actively restricted from selling
Here are a few examples:
- If you have 1.5 million eligible tokens, you can exchange 1 million tokens for $400.
- If you have 2.5 million tokens, you can exchange either 1 million tokens for $400 or 2 million tokens for $800.
- If you have 2.5 million tokens, you can exchange 1 million tokens for $400 on March 31st and then another 1 million tokens for $400 on April 1.
How It Works
You'll be able to check your eligibility and request payment on the Seller Stats page on your Rec.net profile. When requesting payment for the first time, you'll need to register with our payment processing partner, Tipalti—where you'll provide your personal/tax/bank information. Once payment is requested, it may take up to two weeks to process (and a couple of days for Tipalti to process). And that's it! The money is yours.
For more information, check out:
Please note: Creator Compensation is not available where prohibited by local law.
What's Next?
While we're proud and excited to reach this milestone, we still have work to do to improve the experience. Our goal is to payout ONE MILLION DOLLARS to creators in 2021, so we'll also continue to develop new ways for creators to earn tokens and improve on Premium Inventions and Keys.
We're also hosting our first ever sales contest: The Ink Inc. March Sell-a-thon! We want to encourage creators to make great content, but we also want them to become great sellers. The sell-a-thon will reward over FOUR MILLION TOKENS to some of the top selling rooms and premium inventions. Sellers can qualify for multiple rewards and—even better—the tokens are eligible for payout. To learn more about the contest, check out this page.
Thanks for reading!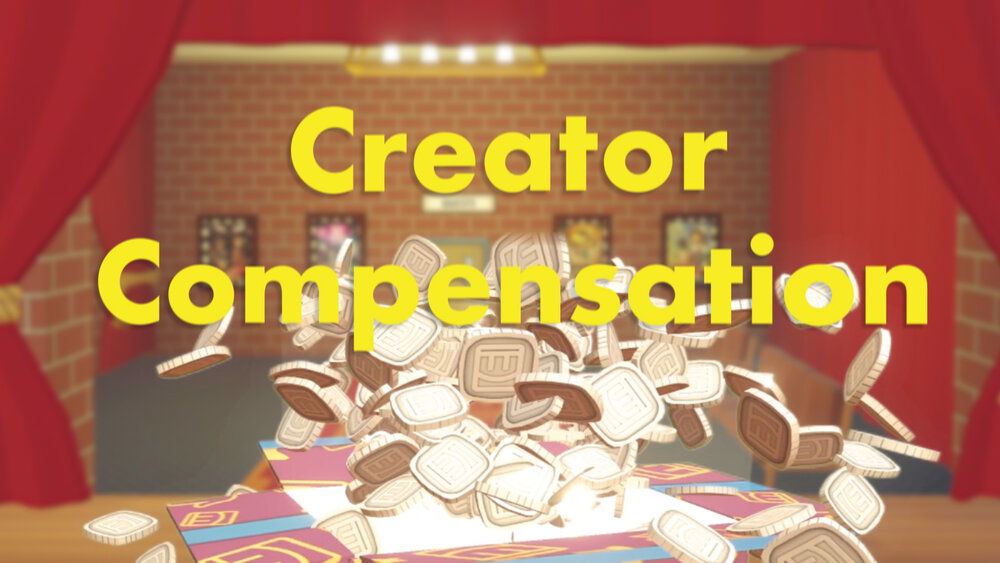 Get Connected
Stay informed! Get in-game announcements on Community Commerce events by joining the Ink Inc. Club. Want your work to be featured? Find out how to get your work featured and connect with the community and staff in the Ink Inc. Discord.
You should also check out the following articles:
Subscribe now to our YouTube channel
Subscribe now to our Facebook Page
Subscribe now to our twitter page
Subscribe now to our Instagram

Subscribe To my personal page on linkedin
Subscribe To my personal page on tiktok page for those who love to dance :)
Don't forget to be my friend. Sign up for my friend's letter. So I can tell you ALL about the news from the world of VR&AR, plus as my new friends I will send you my new article on how to make money from VR&AR for free.