I must admit, after learning that the NFL was broadcasting the contest on CBS, Amazon Prime Video, and Nickelodeon between the New Orleans Saints and Chicago Bears, the latter was the only option I wanted, purely for the novelty of the experience.

With some broadcast AR hijinks, fans with a similar mindset, or the younger viewers that the NFL targeted with the broadcast, had their curiosity rewarded.

CBS Sports projected augmented reality effects throughout the live broadcast on the field of play and in video packages deployed throughout the contest.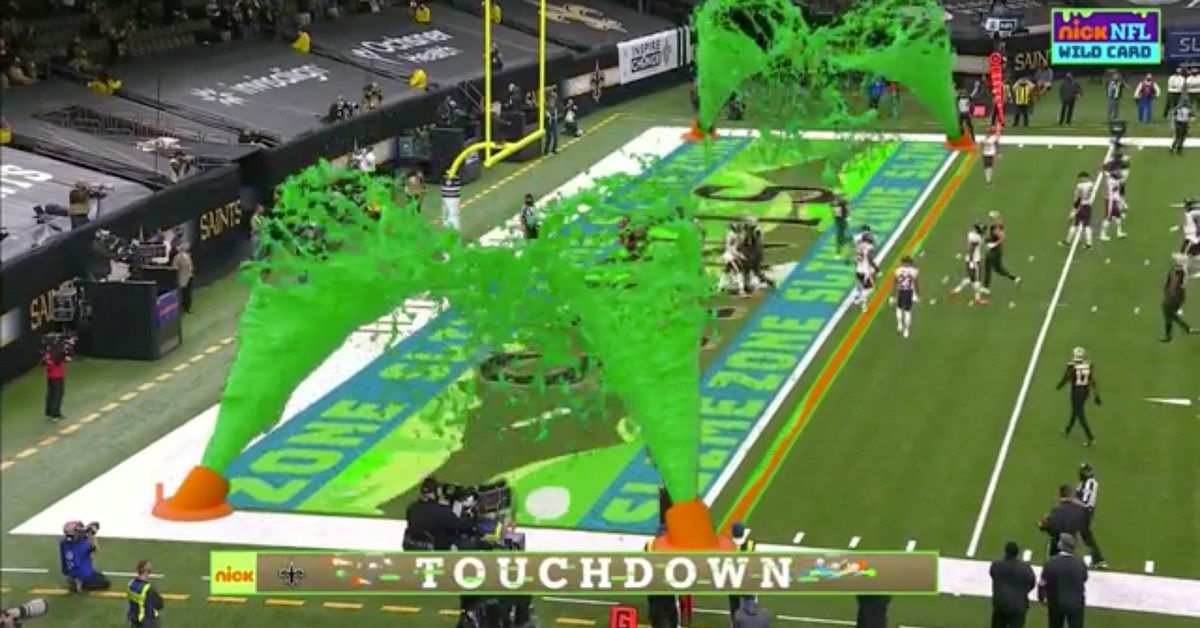 "This is a first of its kind presentation for the NFL together with Nickelodeon, and we are very excited to create a unique telecast that will maximize the co-viewing appeal for kids and families, while maintaining the integrity of the game and its traditions," said Sean McManus, CBS Sports discussion leader, in a statement. "Partnering with Nickelodeon to showcase the NFL Playoffs is a great opportunity to highlight the power, depth and reach of ViacomCBS, as we continue to unlock the true potential of our merged company with the first of many opportunities between CBS Sports and our ViacomCBS family."

For example, some animations that were on-brand for Nickelodeon got by the first down line for each play. More fantastically, the end zone turned into a slime zone when touchdowns scored, with virtual geysers of slime bursting from the field.

In addition, they added broadcast AR special effects to the video clips in the commercial bumpers by the broadcast team.

The announcing team, namely play-by-play announcer Noah Eagle, analyst Nate Burleson, and actress Gabrielle Nevaeh Green, maintained a balance between traditional play calls with vignettes, including explainers featuring Young Sheldon's titular character, which helped young viewers learn the game's basics, aside from the broadcast AR effects.

Brian Robbins, President of Viacom CBS Kids & Family Entertainment, said, "Our game plan is to make sure the NFL Wild Card Game on Nickelodeon definitely lives up to its name by infusing the telecast with Nick's sensibility of surprise and fun at almost every turn," "We're incredibly proud to team up with CBS Sports and the NFL to elevate the thrill of this game for kids and families to enjoy together."

This, of course, is not even close to the first time AR has made its way into an NFL broadcast. Using technology famously pioneered by the league with the debut of the yellow first-down marker in 1998.

The whimsy of broadcast AR effects can help transform the game into something kids are more likely to enjoy when your intention is to gain the interest of a younger audience. My teenage son lamented that this not pulled off sooner by CBS Sports and Nickelodeon, because he might have gotten into the sport earlier.

This unique event also serves as a test case for how to further amplify the entertainment value of traditional broadcasts in the future for the NFL and its media partners.
2. Best VR games for PlayStation 2021: The PSVR games you need to play
3. For 2021, the Best Virtual reality Headsets
4. Accessories to Improve Your Flight Simulator in Microsoft 2021
Virtual Reality, Augmented and Artificial Intelligence 2021 specialist Amit Caesar wrote the article.
Send me an email: caesaramit@gmail.com