Apple Unveils Apple Vision Pro, a Revolutionary Spatial Computer
Apple today unveiled Apple Vision Pro, a revolutionary spatial computer that seamlessly blends digital content with the physical world. Vision Pro creates an infinite canvas for apps that scales beyond the boundaries of a traditional display and introduces a fully three-dimensional user interface controlled by the most natural and intuitive inputs possible — a user's eyes, hands, and voice.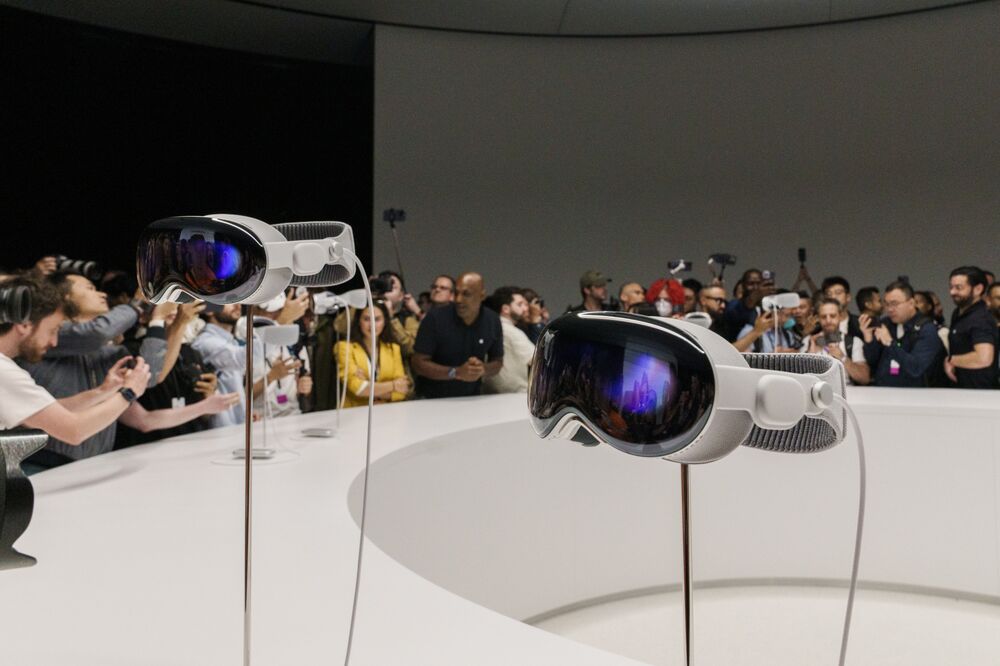 Apple's Vision Pro. Photographer: Philip Pacheco/Bloomberg
Key Features
VisionOS: The world's first spatial operating system that lets users interact with digital content in a way that feels like it is physically present in their space.
Ultra-high-resolution display: Two displays with 23 million pixels each, providing a stunningly immersive experience.
Custom Apple silicon: A dual-chip design that ensures every experience feels like it's taking place in front of the user's eyes in real time.
Revolutionary input system: Eyes, hands, and voice are all used to control Vision Pro, providing a natural and intuitive way to interact with digital content.
Applications
Productivity: Vision Pro can be used for a variety of productivity tasks, such as viewing documents, spreadsheets, and presentations.
Entertainment: Vision Pro can be used to watch movies, TV shows, and play games in a whole new way.
Communication: Vision Pro can be used to make FaceTime calls that feel more like you're actually in the same room as the other person.
Pricing and Availability
Apple Vision Pro will be available in the fall starting at $1,999.
Conclusion
Apple Vision Pro is a revolutionary new device that has the potential to change the way we interact with computers. With its stunning display, powerful performance, and intuitive input system, Vision Pro is the future of spatial computing.
The article was written by Amit Caesar.
Here are some exciting new articles you don't want to miss!
Here are the links to my social media pages: