Tap is a hand worn wearable that allows you to type, mouse, and use air gestures to control any device - all with one hand. Connecting over Bluetooth, you can control your phone, laptop, VR headset, tablet, SmartTV, and everything else using easy finger taps and gestures. Tap works with any application or device that supports mouse and keyboard input.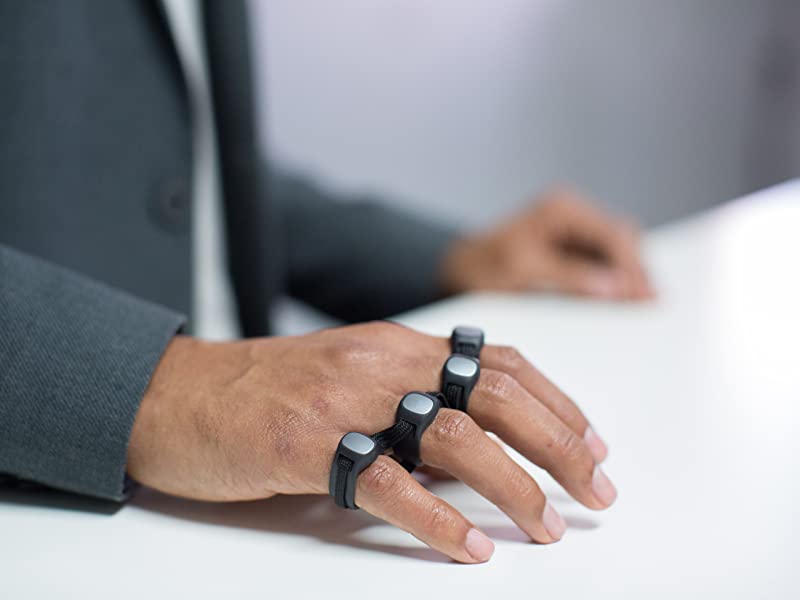 The Most Versatile Gadget You'll Ever Own
Lightweight, Comfortable, Ergonomic
The Most Portable Tablet Keyboard
With Tap, you can now completely control your tablet.
Easily text, mouse, navigate and activate hotkeys, using a simple, lightweight wearable.
Tap up to 110 WPM, switch between apps, edit documents and control games and media.
No need for heavy and bulky keyboard covers and mice, Tap turns your tablet into a powerful, portable workstation.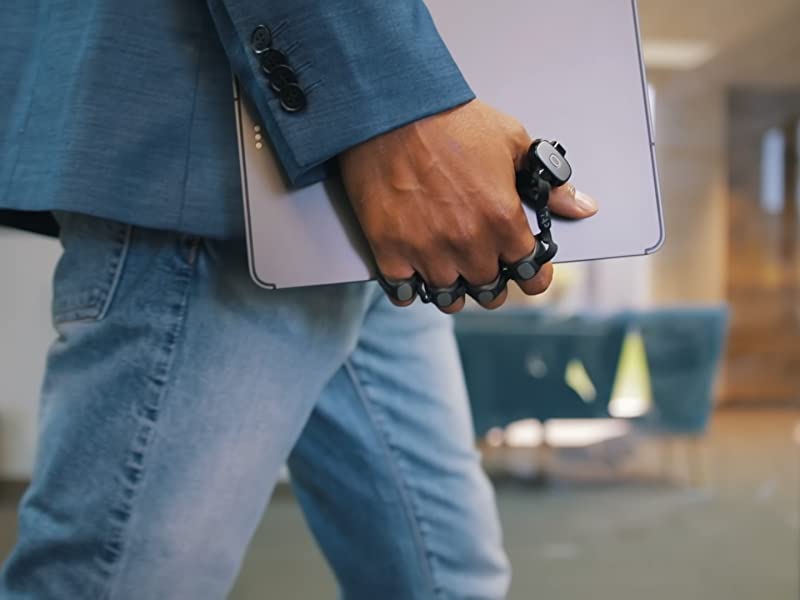 Maximum Efficiency, Ultimate Simplicity
Tap Is 100% Fully Customizable
Tap works in any language.
Fully supports all keyboard keys, macros and combinations.
Remap Tap to make it your own using the free TapMapper online tool.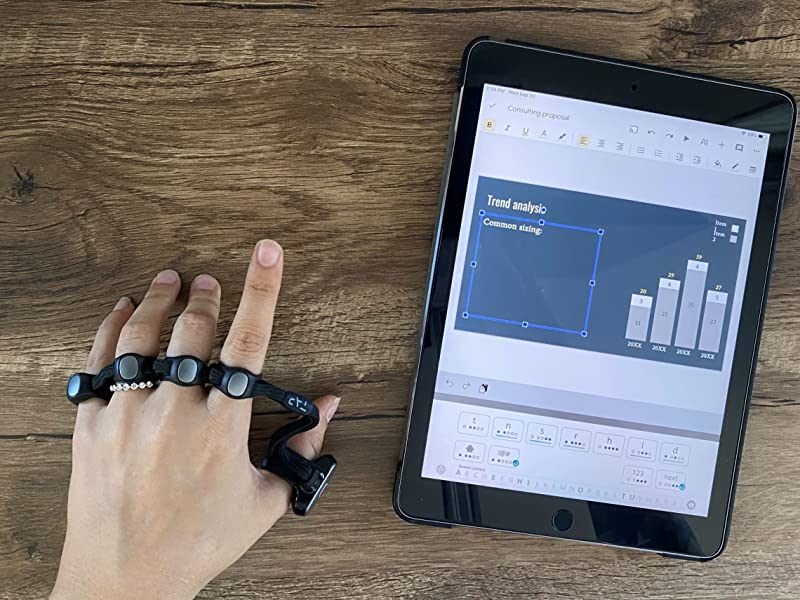 Universally Recognized
"A Digital Artists' Must Have Tool"
Quickly switch between digital art tools.
Easily trigger hot keys, macros, menu items, settings and more.
Create personalized TapMaps for pro software such as Adobe Photoshop, Adobe Illustrator, ProCreate, ClipStudio and more.
Work the same way across all of your platforms and setups.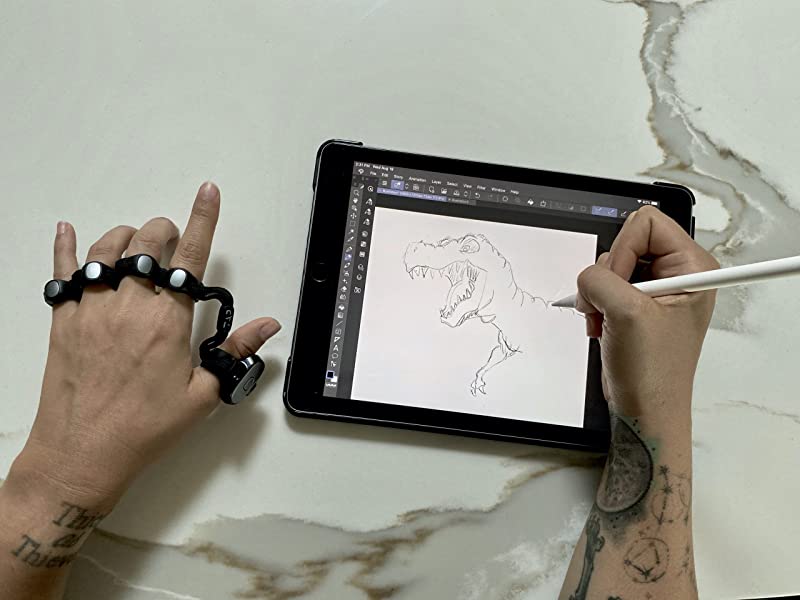 One Gadget To Rule Them All
All In One, Plug & Play Super Controller
From tablets to SmartTV's to AR & VR, the Tap Strap 2 allows you to type, mouse & control any environment.
Simply tap your fingers on any surface or wave your hands in midair.
Control apps, navigate menus, select & play media.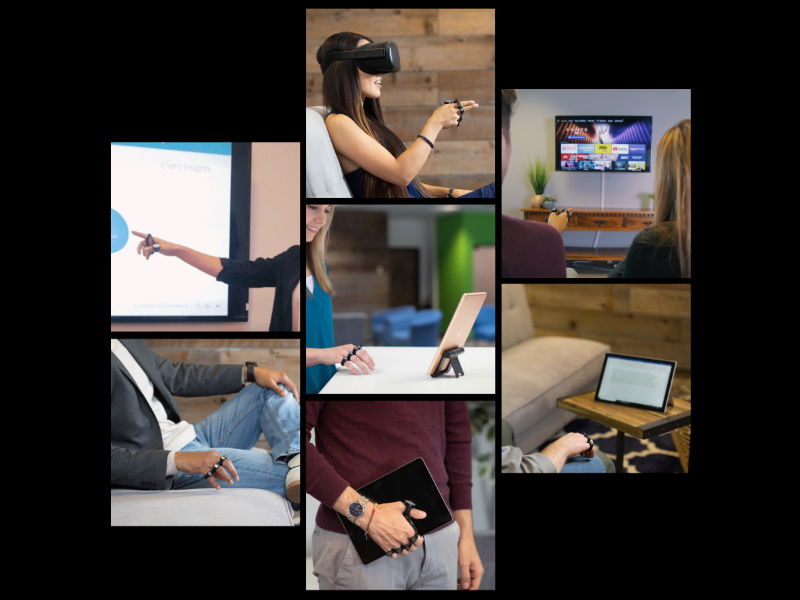 Included Tap Mobile Applications
TapManager
Control Tap Settings
Update Firmware
Load Custom Maps
iOS & Android
TapGenius
Learn The Tap Alphabet
Learn To Use The AirMouse
Start Tapping In Minutes
iOS & Android
TapAcademy
Become A Tapping Expert Through 10m / Day Drills
Rapidly Improve Your Tapping WPM Speed
Compete For The Fastest Tapper Record
iOS & Android
TapAloud
The VoiceOver, Audible Version of TapGenius
Learn The Tap Alphabet
Practice Tapping
iOS
| | |
| --- | --- |
| Brand | ‎TAPWITHUS |
| Item model number | ‎1 |
| Operating System | ‎Windows 8.1, Linux, Mac os x yosemite |
| Item Weight | ‎0.48 ounces |
| Product Dimensions | ‎8.39 x 1.3 x 1.22 inches |
| Item Dimensions LxWxH | ‎8.39 x 1.3 x 1.22 inches |
| Color | ‎Black |
| Batteries | ‎1 Lithium ion batteries required. (included) |
| Manufacturer | ‎Tap Systems, Inc. |
| ASIN | ‎B07YCWNK3H |
| Is Discontinued By Manufacturer | ‎No |
| Date First Available | ‎April 1, 2018 |


Technical Specification
| | |
| --- | --- |
| Accelorameters | 5 |
| IMU | 1 |
| Optical Mouse | 1000 DPI |
| Battery life | 10 Hours (45 mAH) |
| Materials | Soft Skin TPU |
| Bluetooth | BLE 4.0+ |
| Input Protocol | HID Keyboard & Mouse |
| | |
| --- | --- |
| Haptic Feedback Unit | 1 (in Thumb) |
| Laptop & PC | Windows 8+, Mac OSX Yosemite+, Linux, ChromeOS |
| Smartphone | iOS 9+, Android 4.2+ |
| Tablet | Windows, iPadOS, Android |
| VR & AR | Oculus Quest, Microsoft Hololens, Microsoft Windows Mixed Reality, Magic Leap One, HTC Vive |
| Support | 24/5 Email, Chat & Phone Support |