The Metaverse has the potential to be a game-changing new concept in terms of technology and user experience. It comprises an immersive virtual environment in which users may interact with one another, their surroundings, and AI-powered synthetic humans in very realistic ways.

It has the potential to be as transformational as the internet in the 1980s and 1990s, which is why Meta CEO Mark Zuckerberg alluded to it in his October 2021 letter as a "embodied internet."

Companies began investing substantially in the Metaverse to gain a first-mover advantage, which was unsurprising. According to a Crunchbase 2021 study, the Metaverse received nearly $10 billion in venture capital last year, with VR gaming, immersive online games, augmented reality, and virtual worlds receiving most of the cash.
Grayscale, a cryptocurrency investment firm, termed the Metaverse a $1 trillion potential, while Morgan Stanley highlighted that companies have referenced the Metaverse in their earnings calls over 73 times by June 2021, up from fewer than 10 times in December 2020.

Metaverse exchange-traded funds, or metaverse ETFs, are a popular way to invest in and profit from the sector's advances.
We know a bundle of assets that may be traded on the stock market as an Exchange Traded Fund (ETF). It is a collection of securities dispersed among firms, similar to a mutual fund, but they may exchange it as a bundle in the stock market, just like shares.

ETFs are mostly passively managed, which means that fund managers do not purchase and sell assets in ETFs on a regular basis in order to make a profit and enhance their value. Rather, they discover potentially high-value assets and invest in them over time, which is why developing technologies like the Metaverse are a suitable match.
Metaverse ETFs are exchange-traded funds that invest in the best-performing Metaverse and related equities. They have a low-to-moderate level of diversification and are looking to profit from early and high-value investments in the nascent Metaverse industry.

Given the rapid surge in interest in the Metaverse, they are an appealing investment possibility for asset managers with a moderate to high-risk appetite. For individuals interested in Metaverse ETFs, several alternatives have surfaced in the recent year.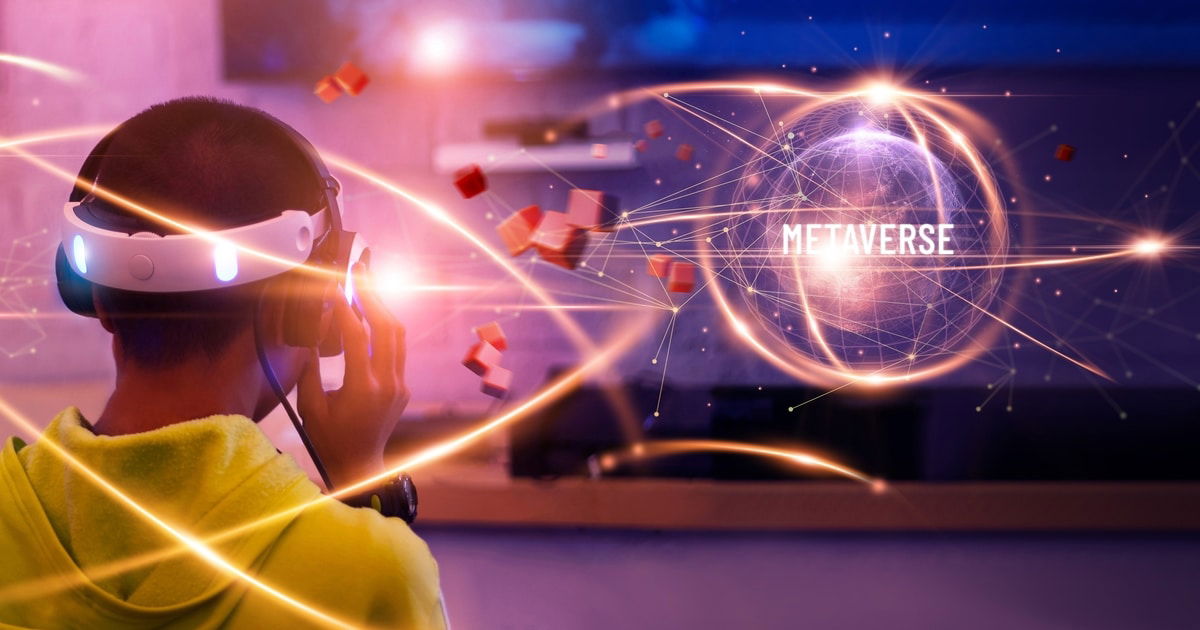 What are the various Metaverse ETFs that will be available in 2022?
The Roundhill Ball Metaverse ETF, created by financial adviser and ETF sponsor Roundhill Investments, was one of the first Metaverse ETFs to be released. The company primarily trades on the New York Stock Exchange (NYSE) and offers thematic and sector-specific investing alternatives to its clients.

The ETF invests in publicly traded firms that are engaged in the Metaverse, which include more than just virtual software platforms. Securities from virtual reality gear manufacturers, content creators, digital payment gateways, and firms that offer computing power for the Metaverse are also included. METV is the ticker symbol for the ETF.
The Subversive Metaverse ETF, powered by Subversive Capital, is another prominent metaverse ETF that was just created. Subversive Capital was founded to invest in "radical firms" with strong future potential.

It specializes in acquisitions and initial public offerings in addition to investing (IPOs). In January 2022, Subversive launched the Subversive Metaverse ETF, which would trade under the ticker PUNK. At any given moment, it will have shares ranging from 55 to 65, covering industries such as information technology, communication services, healthcare, financial services, and consumer discretionary products.
The ProShares Metaverse Theme ETF is another Metaverse ETF that has yet to be released. ProShares is an exchange-traded fund (ETF) provider that specializes in non-diversified high-risk, high-gains products. It offers various themed ETFs in areas such as big data, nanotechnology, smart materials, online shopping, and bitcoin, making it an excellent choice for metaverse investing.

The business filed with the US Securities and Exchange Commission (SEC) in 2021, announcing its desire to create a metaverse ETF; this filing is now being reviewed.
Following ProShares, financial services behemoth Fidelity Investments submitted an application with the Securities and Exchange Commission to develop its own Metaverse ETF. It is currently being reviewed and will encompass firms that "create, produce, distribute, or sell items or services" linked to the Metaverse.

South Korea is a popular investing location, in addition to these well-known US Metaverse ETFs. There are now four distinct Metaverse ETFs listed on the Korean Stock Exchange:
Tiger Fn Metaverse by Mirae Asset Global Investment
KBSTAR iSelect Metaverse by KB Asset Management
Hanaro Fn K-Metaverse MZ by NH Amundi Asset Management
KODEX K-Metaverse Active by Samsung Asset Management
Samsung's Metaverse ETF, for example, follows and invests in assets issued by US-listed firms, allowing investors to directly finance and profit from US companies by creating the spatial communications platform.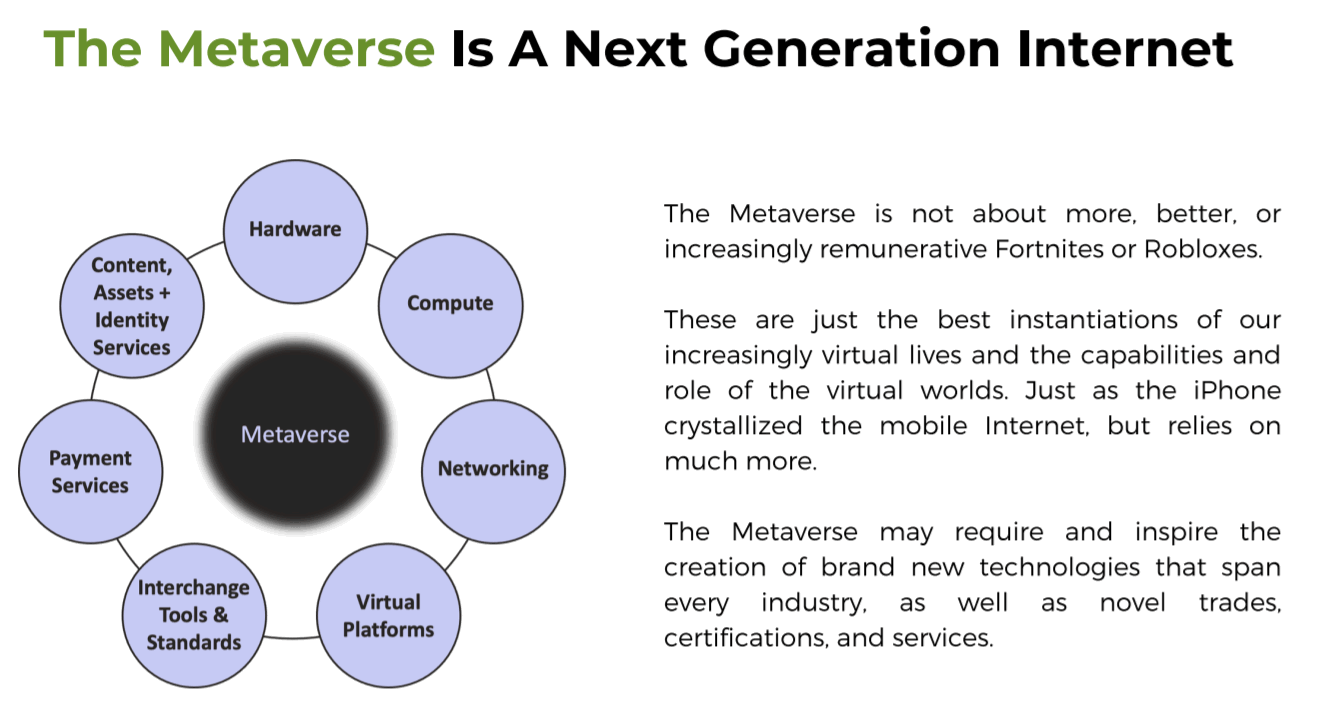 The Benefits and Drawbacks of Metaverse ETFs
Metaverse ETFs are a convenient and attractive investment vessel for technology investors in 2022.
It provides access to a fast-growing sector, which is still in its infancy, so that investors gain from an early mover advantage. Investment research and information around the Metaverse is still not widely accessible, making such ETFs even more important for interested investors. Manually identifying, tracking, and purchasing shares from top-performing Metaverse companies may be difficult, but purchasing a metaverse ETF is much more convenient.
On the negative, the Metaverse is still a developing technology, with no guarantees when it will be released or how quickly it will be adopted. ETFs now operate in non-diversified, high-risk asset classes, which, when paired with the risky nature of the Metaverse, might be difficult for investors to navigate.

In addition, the SEC has a generally skeptical attitude toward new technology, having rejected seven bitcoin ETFs last year. It may take a long time to approve Metaverse ETFs, which implies that money will only be routed through a few possibilities.
Finally, the Metaverse remains a volatile industry, as seen by the fact that Meta Platforms Inc.'s stock dropped nearly 22% in response to a bad earnings estimate.

Although this is owing to Meta's massive investment in the platform — which is intended to pay off only in the long run — it will have a significant impact on ETF investors. When examining these options, investors must analyze all the advantages and disadvantages.