Oculus Air Link
Oculus Air Link allows you to play PC VR games wirelessly, while new Infinite Office features make working in VR even easier. For an ultra-smooth gameplay experience, we're also announcing native 120 Hz support for Quest 2.

They include air Link in v28, but it requires that both your headset and PC be running the latest version of the software. That means we'll be able to use Air Link once they release both Quest and PC v28.

Oculus Link has been a popular feature on the Quest Platform since it launched in 2019 and exited beta last year.
Link has given people access to Rift's impressive content library, which includes games like Asgard's Wrath, Lone Echo, Storm land, and more, with just a gaming PC and a compatible USB-C cable.
Being tethered to your PC can break immersion and limit mobility. We understand gamers want to use Link without a wire in order fully appreciate the freedom of movement provided by Quest 2 while playing high-end games that can only play on a gaming PC.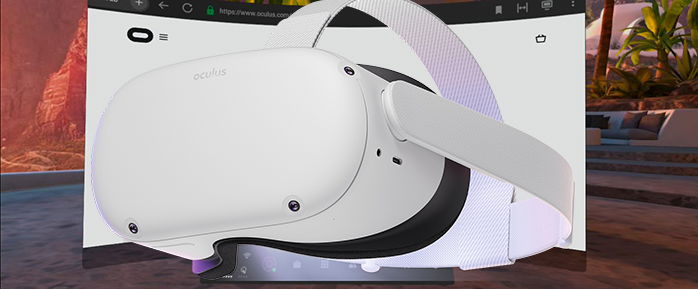 Air Link expands the number of PC VR games available on Quest 2. Oculus Link cables will continue to deliver a stable and consistent experience, while those with a strong Wi-Fi setup can use Air Link to stream wirelessly. Link via USB-C cable is the way to go if you want to charge your headset during your VR adventures, experience the highest-fidelity visuals possible, or if your available Wi-Fi network is congested or unsecured. Air Link is a good option if you have a strong Wi-Fi network and your play space is ideally within 20 feet of your Wi-Fi router.

Once Air Link is available, here's how to get started: If you haven't already, download and install the Oculus PC app. You'll need PC software version 28, which will be available soon. Then, in the PC app, go to Settings Beta and turn on the Air Link toggle. After that, put on your Quest 2 headset and go to Settings Experimental > Air Link. To disable Air Link and return to using Link with a USB-C cable, go to the Experimental panel and disable Air Link.

ENDLESS OFFICE UPDATES
We announced Infinite Office at Facebook Connect, a set of additional features built into Oculus Home that make working in VR feel more productive and flexible. We introduced the ability to locate and use your Bluetooth-enabled mouse or track pad while in VR in January. Physical surface integration and the ability to track your physical keyboard are two more great additional features in the Infinite Office suite that we're announcing today.

Turn Your Workplace Into A Virtual Reality Experience:
Being able to interact with real-world elements can make you feel safer, more immersed, and more at ease in virtual reality. You'll be able to place a virtual desk on your proper furniture as an experimental feature on the Quest Platform, allowing you to see and use it while in your Home environment. You can use your desk as a separate seated area to access work tools like Browser with this feature. Your virtual desk boundary automatically saved and detected, allowing you to pick up right where you left off, besides integrating with your proper environment.

For better input, pair your physical keyboard with your Quest 2.
We announced a partnership with Logitech at Facebook Connect to bring a physical keyboard to VR, starting with the Logitech K830. With Bluetooth-enabled keyboard tracking, you'll soon be able to type as efficiently in VR as you do in the actual world. You'll be able comfortably sit at your physical desk at home, pair your Logitech K830 keyboard to your Quest 2, and view a 3D representation of your hands and keyboard within VR for easy text entry and system navigation while in your Home environment with this experimental feature. We recommend placing the keyboard on a flat, light-colored surface in a well-lit area for the best in-VR experience. In the future, we'll add support for more keyboards.

Through the Experimental Features panel in your Settings, you'll be able to enable your virtual desk and pair your keyboard with Bluetooth pairing. They must enable tracking in order to use your keyboard in VR, which you can do by putting on your headset, going to Settings Device, and enabling the Tracking toggle.

SUPPORT FOR QUEST 2 AT 120 HZ
Quest 2 can support high frame rates and delivering an ultra-smooth gameplay experience thanks to its increased graphics processing power and new display. In system software like the Home environment, Explore the Store, Oculus Browser, and Oculus TV, Quest 2 runs at 90 Hz by default. We also enabled 90 Hz support across the entire platform last year, allowing developers to ship Quest 2 titles with native 90 Hz support. Many apps have already received 90 Hz updates, including Echo VR, Red Matter, Vacation Simulator, Racket: Nx, Eleven Table Tennis, and Down the Rabbit Hole.

With the option to enable a 120 Hz display refresh rate on Quest 2, we're giving gamers and developers even more options to take smooth gameplay to the next level. Quest 2 users will opt into the 120 Hz option via a toggle in the Experimental panel to experience these applications at higher frame rates. Developers will soon be able to ship apps that run at 120 Hz natively on the Oculus Store, and Quest 2 users will opt into the 120 Hz option via a toggle in the Experimental panel to experience these apps at higher frame rates. While no apps currently support 120 Hz, users who enable this setting will experience 120 Hz performance in apps that choice to support it in the future. Meanwhile, the system software for Quest 2 will continue to run at 90 Hz. Support for 120 Hz will add to Oculus Link in the future.

Our goal is to keep delving deeper into the Quest 2 hardware's capabilities. For games that rely on fast-twitch, rapid-style movement, we expect 120 Hz and 90 Hz support to be the most beneficial, while 72 Hz mode will continue to be a great option for a smooth and comfortable experience for many other apps.

As is customary, they will release v28 in stages, so you may not see these updates right away. They'll be on their way soon! Which aspect of today's news has piqued your interest the most?
The cost of a Facebook account is $299. Thanks to a new software update, the Oculus Quest 2 VR headset will stream PC VR games to it via Wi-Fi, making it even more powerful. Air Link, which will be available only as an experimental feature until they updated the firmware to version 28, gives wearers full freedom of movement without being tethered by a USB-C cable.

Oculus recommends that your play area be within 20 feet of your router, so plan then turn on Air Link in the beta settings in the PC app.

Other changes affect the refresh rate, which is set to 90 Hz by default and for some games, but can increased to 120 Hz for native apps after the update. There aren't any apps that make use of the new setting yet, and it won't work with Oculus Link titles for the time being.

Infinite Office by Oculus
Oculus is a virtual reality headset.
Finally, the Infinite Office feature is getting better, with the ability to map and save a virtual desk over your real-world furniture, as well as pair a Logitech K830 keyboard with VR (along with your hands) while you type on it in real life.
Virtual Reality, Augmented and Artificial Intelligence 2021 specialist Amit Caesar wrote the article.
Send me an email: caesaramit@gmail.com


What are your thoughts? Please let us know in the comments section below!
more how to set up: