Lenovo has released its ThinkReality A3 PC Edition mixed reality (MR) smart glasses for sale, Pierre Nowacki, VR/AR Technical Business Development Manager at Lenovo, wrote in a recent LinkedIn post.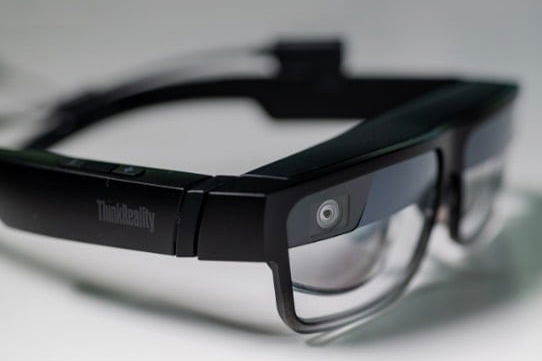 Mr Nowacki explained the Light Weight iteration would weigh less than 130 grammes and operate in numerous scenarios such as audits, dashboards, trading, open office, and others.
"We can't wait to see where our customers will use it next," he concluded.
The news comes after Lenovo unveiled the wearable at the Consumer Electronics Show (CES) 2021 in mid-January, which showcased several of the Beijing-based firm's upcoming products.

A Closer View of Lenovo's ThinkReality A3 According to Lenovo, the device aims to boost support for hybrid work models for small and large businesses by providing custom virtual monitors, 3D visualisations, and AR-assisted workflows.
The ThinkReality A3 tethers to select Motorola smartphones and PCs, depending on system resource needs, and features Qualcomm's Snapdragon XR1 platform along with 1080p steroscopic displays.
An additional 8MP RGB camera facilitates remote viewing for experts and dual fish-eye cameras for room-scale tracking.
Jon Pershke, Lenovo Vice-President of Strategy and Emerging Business for Intelligent Device Group, said:

"The A3 is a next generation augmented reality solution – light, powerful and versatile. The smart glasses are part of a comprehensive integrated digital solution from Lenovo that includes the advanced AR device, ThinkReality software, and Motorola mobile phones. Whether working in virtual spaces or supporting remote assistance, the ThinkReality A3 enhances workers' abilities to do more wherever they are"Lenovo's ThinkReality A3 Industrial Edition features a more durable frame and tethers to several Motorola smartphone models for working in complex, work-intensive environments, allowing users to create, deploy, scale, and manage mixed reality (MR) content.

The company's ThinkReality platform offers a cloud-agnostic ecosystem of solutions for firms and users, and works seamlessly with A3 smart glasses and A6 headsets.

DEMOND CURETON Senior Journalist
What would you do if you had a plot of metaverse land? Please get in touch with us.

You should also check out the following articles:
You should also check out the following articles:
Subscribe now to our YouTube channel
Subscribe now to our Facebook Page
Subscribe now to our twitter page
Subscribe now to our Instagram

Subscribe To my personal page on linkedin
Subscribe To my personal page on tiktok page for those who love to dance :)
Want to know what else is going to be in the coming years? Follow me. Follow the future. Sign up for my friend's letter.
Do you like our news? Give us a 5-star rating and review on Google to show your support for the website.