Webex and Google are paving the way for a future in which technology fades into the background while transforming many aspects of the "future of work." This is especially true for the frontline workforce, which is vital to various industries and is reinventing itself to work better, safer, and more efficiently.
On-Demand Webex Expert on Glass
Webex today announced a public preview of its native meeting experience for Glass Enterprise Edition 2 (Glass), Google's lightweight eye wearable device with a transparent display. Webex Expert on Demand on Glass provides an immersive collaboration experience that allows users to complete routine tasks using natural voice commands, touchpad gestures, and head movements.
The hands-free, voice activated experience in Webex Expert on Demand takes advantage of Glass's powerful multicore processor, enhanced camera quality, increased power and battery life, and transparent head mounted display to provide digital information in users' line of sight to deliver hybrid work experiences.
Frontline workers can collaborate in a more connected and seamless manner.
Frontline workers in a variety of industries, including warehouses, manufacturing, logistics, healthcare, and more, can use Webex Expert on Demand on Glass to provide a first-person point of view that helps them collaborate, enabling a more connected and seamless way to work together. The solution can be used by factory floor operators to guide them through various activities in order to improve workflows during their shift. Doctors can use the platform to access shared medical data, consult with other healthcare professionals, and record operations for educational and research purposes.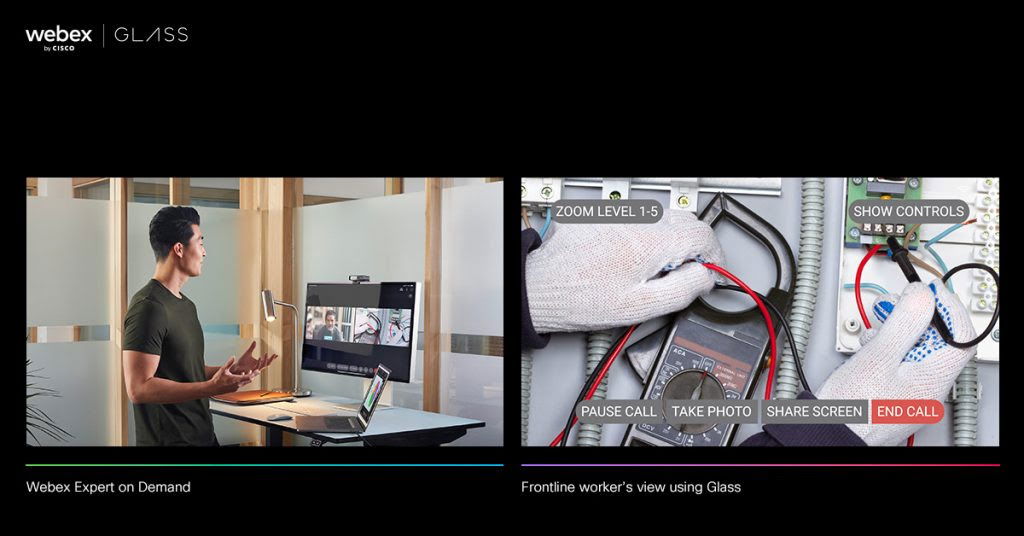 Webex Expert on Demand on Glass helps workers complete complex tasks, provides real-time guidance, and shares documents with real-time annotations, resulting in faster resolutions, better experiences, and increased safety. Glass displays messages, video calls, and notifications from colleagues, experts, and others in the user's field of view, completely augmenting reality.
Webex is assisting in the powering of the connected workforce.
As the concept of distance fades, both employees and businesses can find the right fit based on skills, potential, and passion, rather than location. Cisco's continued partnership with Google through Webex Expert on Demand provides enterprise-grade video collaboration tools on Glass to power this new age of Connected Workforce, as we strive to better connect our tomorrow.
You should also check out the following articles:
Subscribe now to our YouTube channel
Subscribe now to our Facebook Page
Subscribe now to our twitter page
Subscribe now to our Instagram

Subscribe To my personal page on linkedin
Subscribe To my personal page on tiktok page for those who love to dance :)
Want to know what else is going to be in the coming years? Follow me. Follow the future. Sign up for my friend's letter.