Apple plans to launch two devices with AR technology (Layered Reality) and VR (Virtual Reality) in 2022 and 2023, according to a report from the "Information" site. AR technology presents a combination of digital content across reality, while VR presents the user with a completely virtual world.
There is a race between the big tech companies and startups that work in developing AR technology that can incorporate into a small product that will be as comfortable to wear as regular glasses - unlike the bulky helmets available today. There are predictions that the stratified reality will be the next technology platform to replace computers, phones and TVs with smart glasses. Today, they integrate AR technology into iPhones and allow users to place furniture in the living room to see if it fits before buying, for example. Google recently integrated AR into its search results so users can understand the correct size of different animals, and Microsoft AR glasses called "Hololens" - but these used by organizations rather than consumer use.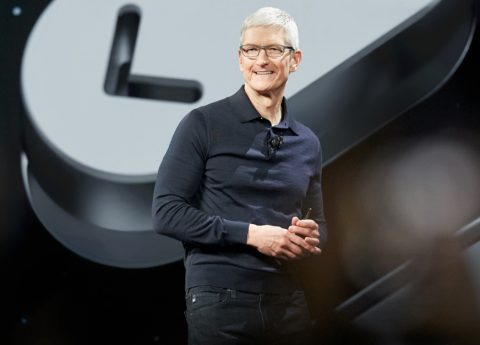 Apple executives reportedly discussed the launch of the new devices last month during a meeting led by company vice president Michael Rockwell that included an internal employee presentation. The amount of staff that came to the meeting filled the Steve Jobs theater at the Cupertino company headquarters, which can hold a thousand people. This is an unusual step for Apple, which usually keeps great discretion in secret and future projects within the company as well, and shares as few employees as possible. The presentation included updates on the development phase of future products and features to incorporate.
Will the AR goggles replace the iPhone?
The two products discussed at the meeting area helmet that will feature AR and VR functions, due out in 2022, and AR glasses that are scheduled for launch a year later. Reportedly, the N301 code helmet will be similar in size to Facebook's Virtual Reality Helmet, "Oculus Quest." It will have a "high-resolution display that will allow users to" read lowercase letters and see people standing in front of or behind virtual objects, "and advanced 3D mapping capabilities.
The glasses called code 421, and reportedly intended for "all-day assembly," but are currently in early development. They now look like regular glasses with the addition of a "thick frame that contains the battery and chips." "Information" sources added Apple is experimenting with a system that makes the lenses darker when a particular application is in use, and that senior officials have questioned whether the product could eventually replace the iPhone.
Rapid growth in the wearable handset division
Another report by Bloomberg added: Bloomberg reports that Apple engineers have developed a new operating system called VROS that will allow existing devices to work in sync with their helmet and glasses.
Bloomberg also reports that the AR and VR devices the company is developing based on a new 3D sensor system, and that by 2020 the company will launching a new iPad Pro that allows users to connect to the 3D system so users can create 3D representations Of rooms, objects and people, and that the system will also integrated into iPhones that will released in 2020 with 5G connectivity. We have also noted it that Apple has been developing the system for several years now, and that it is a more advanced version of the Face ID sensor on Apple devices used to unlock the screen with face detection.
Unlike the "Information" report, according to "Bloomberg" the helmet may come out in 2021 or 2022, and they state it it will focus on gaming options, video watching and virtual meetings. It was also noted that they planned the launch for 2020, but Apple recently delayed it.
The devices will probably join Apple's wearable device division, which includes the Apple Watch smartwatch, Air Pods, and Beats headphones. This is one of the fastest growing Apple business divisions, as part of the company's attempt to diversify its revenue and not continue to focus primarily on iPhone sales - which are not as strong as before.
In 2017, Apple CEO Tim Cook told The Independent newspaper that AR technology is "a great idea, like the smartphone," adding that "the smartphone is for everyone. We don't think that iPhone is appropriate for a particular demographic, country or market, for everyone. And I think AR is a big thing. "
Virtual Reality, Augmented and Artificial Intelligence 2021 specialist Amit Caesar wrote the article.
Private customers can purchase virtual and augmented reality products on the world's well-known and largest sites:
You should also check out the following articles:
Subscribe now to our YouTube channel
Subscribe now to our Facebook Page
Subscribe now to our twitter page
Subscribe now to our Instagram

Subscribe To my personal page on linkedin
Subscribe To my personal page on tiktok page for those who love to dance :)
Don't forget to be my friend. Sign up for my friend's letter. So I can tell you ALL about the news from the world of VR&AR, plus as my new friends I will send you my new article on how to make money from VR&AR for free.
Introduce your friends to the easiest way to get things done
How to make Up To US$100 in less than a minute on fiverr?