The company has just announced the new Nreal Air smart glasses, which will be available by the end of the year. Apple's new AR glasses, the Apple Glass, are also rumored to still be in the works. It appears that it will be announced in 2022, but no one knows for sure. With so many new and exciting AR glasses on the market, we thought we'd share our team's top picks for wearable AR glasses!
1. Ray-Ban Stories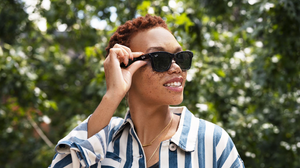 Facebook / Meta ©
Ray-Ban and Facebook's (now Meta) first ever pair of smart glasses, the Ray-Ban Stories, are finally available for purchase. The Ray-Ban Stories feature dual speakers, three built-in microphones, two-front facing cameras, and a touchpad on the side of the frame to control the volume and playing/pausing. They also have a front-facing white light that helps illuminate what you're recording. While their functionality is limited, they make up for that with their sleek design. The Ray-Ban Stories closely resemble Ray-Ban's signature sunglasses, the Wayfarer, and are the most normal-looking and accessible pair of smart glasses to hit the market yet.
The Good: Stylish, Affordable, Fully charges in 1 hour
The Bad: Limited functionality
2. Snapchat Spectacles 3 & 4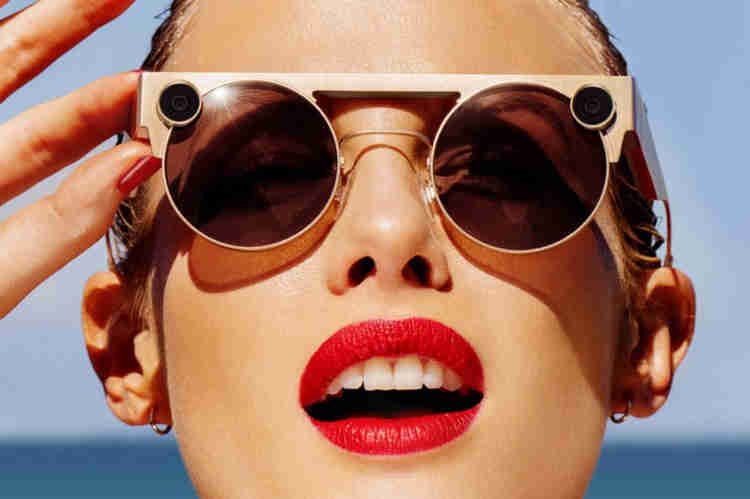 Snap ©
In 2019, Snapchat announced the Spectacles 3 and they were a huge improvement from the Spectacles 1 and 2. For one, the Spectacles 3 featured a second camera which allowed the device to perceive depth for the first time and capture your world in 3D. They also had two HD cameras, four built-in microphones, built-in GPS, and tinted lenses for UVA/UVB protection.
The Good: 3D filters can be added to the photos & videos through Snapchat
The Bad: Expensive, Not water resistant (unlike the Spectacles 2)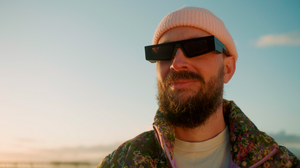 Snap ©
A few months ago, Snapchat introduced the new Spectacles 4 which are expected to be released soon. The fourth-generation Spectacles feature dramatic improvements from the previous model and offer immersive AR lenses for the first time. Their newer model features dual 3-D waveguide displays, 2 RGB cameras, 4 built-in microphones, a 26.3-degree field of view, and automatic brightness adjustment based on your environment. Unlike the Spectacles 3, the Spectacles 4 are solely intended for augmented reality creators and developers of Snap's AR-powered Lenses.
The Good: Can be used indoors or outdoors
The Bad: Limited field-of-view, unattractive, bulky
And the Price: Currently Unknown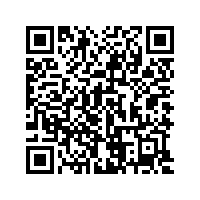 Scan this QR code with your phone to see something awesome! or go directly to
https://go.echo3d.co/8vxJ with your phone browser
Sign up to the echo3D platform for free to create this yourself!
3. Vuzix Blade & Vuzix Next Generation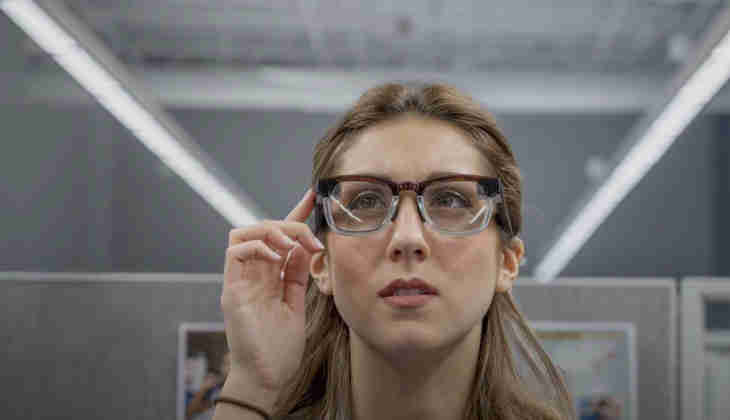 Vuzix ©
Vuzix's Next Generation smart glasses are powered by micro-LED display engines and waveguide tech in order to map images onto the inside of the glass. These smart glasses are a great combination of style and function with a sleek exterior, full smartphone integration, voice command, immersive sound, and noise-cancelling microphones. However, they are not currently widely available.
The Good: Stylish, Sleek, Requires extremely low power
The Bad: Presumed expensive
But you don't need to wait for the Vuzix Blade. While the Vuzix Next Generation are better for casual use, the Vuzix Blade Upgraded is aimed at industry use. The Vuzix Blade Upgraded is an augmented reality smart glass with an autofocus HD camera, noise-cancelling microphones, head motion tracking, and voice control. Similar to the Next Generation, the Blade Upgraded also employs waveguide tech and offers immersive sound. However, the Blade Upgraded has more advanced voice control with Alexa compatibility, a companion mobile app for users, and safety certified lenses.
The Good: Can be used as safety eyewear in Europe and the US
The Bad: Expensive, Bulky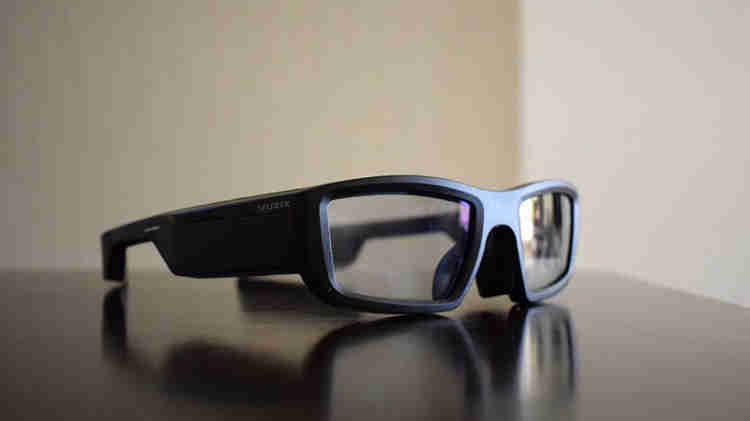 Vuzix ©
4. Microsoft HoloLens 2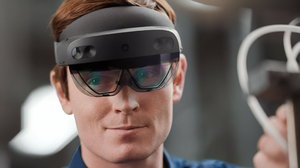 Microsoft ©
Microsoft's Hololens 2 are probably still the most sophisticated pair of mixed reality smart glasses. The Hololens 2 offers transparent lenses, fully integrated audio, and numerous sensors and microphones that allows users to interact with 3D content and holograms. They are popular with enterprises that use AR technology for training, remote collaboration, assembly lines, logistics and more.
The Good: Gesture recognition, Spatial mapping, Large field of view
The Bad: Expensive, Not suitable for home use
And the Price: $3500 at Micorsoft
5. Nreal Light + Nreal Air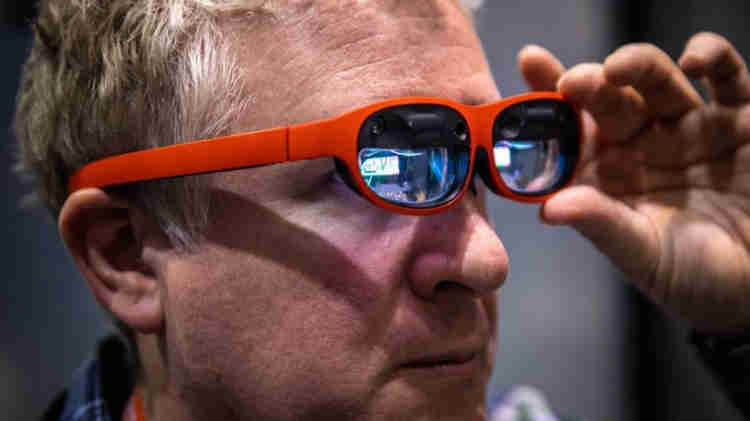 Nreal ©
First introduced in 2019, the Nreal Light will soon be available in the US (the AR glasses are already available in Japan, South Korea, Germany, and Spain or on ebay). The Nreal Lights are mixed reality glasses that offer spatial sound, spatial computing cameras, ambient light sensor, a proximity sensor, and smartphone compatibility.
The Good: Gesture recognition, Spatial computing
The Bad: Expensive, Not suitable for home use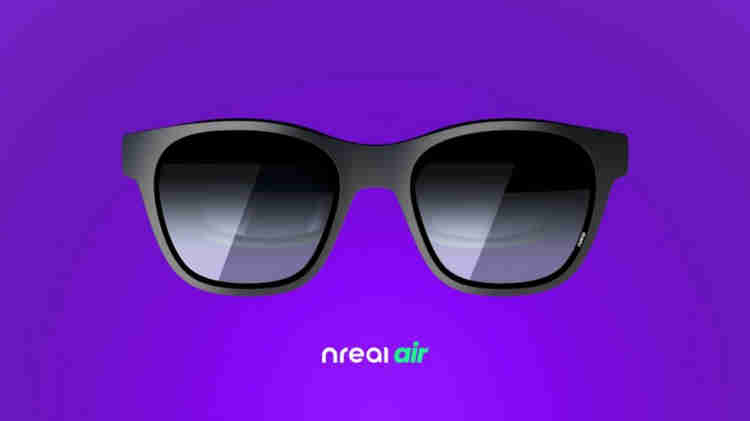 Nreal ©
The Nreal Air was also just announced on Twitter by the company and will be available by the end of the year. While the Air needs to be tethered to a phone, like the Light, it is significantly lighter than its predecessor. Additionally, the Air offers a sleeker design and a higher quality display. It also has a 46-degree Field of View and a refresh rate of up to 90 Hz. In comparison, the Light has a 52-degree Field of View and a refresh rate of up to 60 Hz. The main difference, however, between the Light and the Air is the lack of inside-out tracking. The new Air doesn't have any motion tracking at all as the company expects the Air to be used mostly for streaming shows and playing mobile games.
The Good: Lightweight, High refresh rate, Suitable for home use
The Bad: Limited functionality
6. Lenovo ThinkReality A3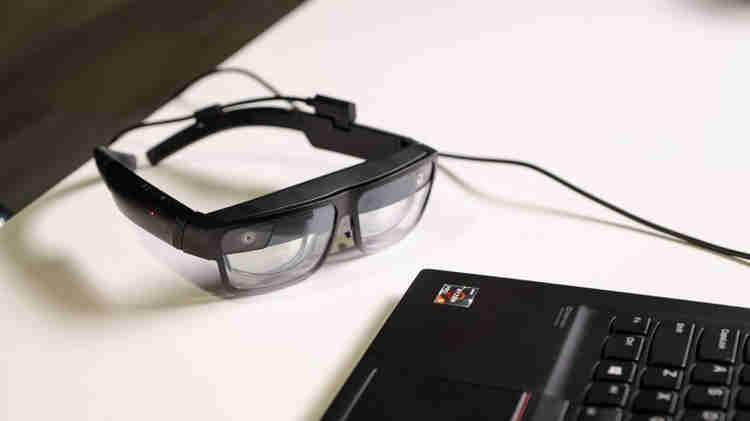 Lenovo ©
Lenovo has launched a new device at CES 2021 and it's described by the company as "one of the most advanced and versatile" smart glasses for enterprise. The ThinkReality A3 can be used for applications such as 3D visualization and augmented reality guided workflows. There are two versions currently released — a PC edition and an industrial edition. The PC edition is intended for people who work at their desks and it needs to be connected to a laptop or mobile workstation. On the other hand, the industrial edition will only tether to certain Motorola smartphones.
The Good: Can show up to five virtual 1080p displays
The Bad: Bulky, Expensive, Needs to be connected to a laptop or a Motorola smartphone
Magic Leap 2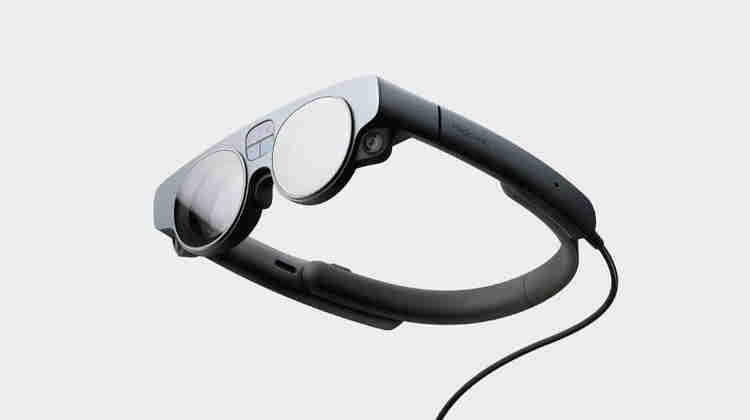 Magic Leap ©
Despite past setbacks, Magic Leap has revealed a new version of its headset, alongside an announcement on $500M in new investments. The new headset is intended primarily for business use and looks to be smaller and lighter than the original Magic leap headset. The headset will also be capable of segmented dimming (which dims real world backgrounds) and will offer a larger field of vision and a better color fidelity, image quality, and text legibility than its predecessor. We can't wait to see it in action!
Amit Caesar wrote the article: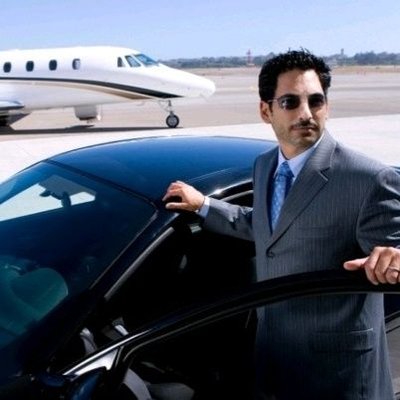 You should also check out the following articles:
Subscribe now to our YouTube channel
Subscribe now to our Facebook Page
Subscribe now to our twitter page
Subscribe now to our Instagram

Subscribe To my personal page on linkedin
Subscribe To my personal page on tiktok page for those who love to dance :)
Don't forget to be my friend. Sign up for my friend's letter. So I can tell you ALL about the news from the world of VR&AR, plus as my new friends I will send you my new article on how to make money from VR&AR for free.