Soar to New Heights with a Flight Stick
Microsoft Flight Simulator has taken the gaming world by storm, immersing players in the breathtaking beauty of the skies. But to truly experience the thrill of flying, you need the right tools. While a standard controller can get you off the ground, a flight stick elevates your flight simulation experience to new heights.
Unleash Your Inner Pilot with a Flight Stick
Imagine gripping the controls of a real airplane, feeling the subtle vibrations of the aircraft as you navigate the skies. With a flight stick, that level of realism is at your fingertips. The precise control and immersive feel of a flight stick transform your virtual flight into an authentic piloting experience.
Precision Control for Seamless Maneuvers
Guiding your aircraft through the air with a flight stick is like conducting an orchestra – every movement is deliberate and precise. The joystick's intuitive design allows you to make fine-tuned adjustments to your pitch and roll, ensuring smooth ascents, graceful descents, and effortless turns.
A Symphony of Buttons and Levers
Gone are the days of fumbling with a controller, struggling to find the right button. A flight stick puts a plethora of controls right at your fingertips. Buttons and levers dedicated to essential functions like flaps, landing gear, and trim allow you to manage every aspect of your flight with ease.
Enhance Your Immersion with a Dedicated Throttle
While a flight stick takes care of your aircraft's pitch and roll, a throttle is the maestro of your speed. With a separate throttle, you can precisely control your aircraft's engine power, adjusting speed with finesse to achieve the perfect landing or maintain the ideal cruising altitude.
A HOTAS Setup for Ultimate Control
For the ultimate flight simulation experience, combine a flight stick with a throttle to create a HOTAS (Hands-on Throttle and Stick) setup. With this configuration, you'll have complete control over both your direction and speed, mimicking the cockpit of a real aircraft.
Transform Your Gaming Experience
Don't settle for a mediocre flight simulation experience. Invest in a flight stick and harness the power to pilot your aircraft with precision, finesse, and an unparalleled sense of immersion. Soar to new heights and discover the true thrill of flight with a flight stick.

CONTROLLER USE
If you want to get into the sky fast, you will learn how to drive an aircraft with your own joystick. Regardless of whether you use a Xbox controller or a third party option, you can control most of the operations of an aircraft with a regular game pad.

As described in our beginner guide to Microsoft Flight Simulator, you will first learn how to pull down nuanced maneuvers on a pad. You must still rely on your computer keyboard for more advanced options, even after you have mastered the controllers.
It's a fully legitimate choice to play Microsoft Flight Simulator with only one controller. We have used a certain controller to increase the options in our hands in order to make the most of the experience.
Xbox Elite Series 2 controller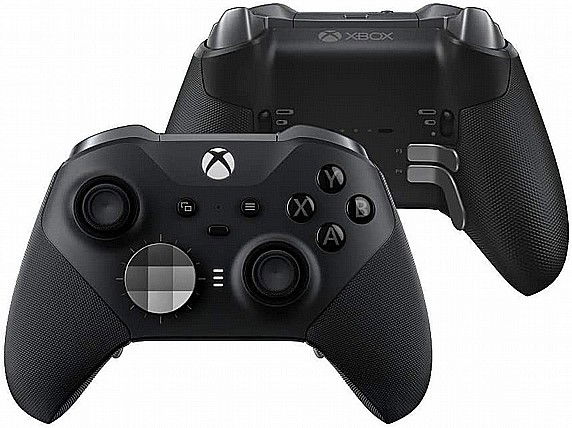 The Xbox Elite Wireless Controller Series 2 is a high-performance controller designed for serious gamers. It features a number of enhancements over the standard Xbox controller, including adjustable-tension thumbsticks, interchangeable paddles, and a wrap-around rubberized grip.
Adjustable-Tension Thumbsticks
The Xbox Elite Series 2 controller's thumbsticks are adjustable, allowing you to customize the feel and resistance to match your playing style. This can be especially beneficial for FPS games, where precise aiming is essential.
Interchangeable Paddles
The Xbox Elite Series 2 controller has four interchangeable paddles on the back. These paddles can be mapped to any button on the controller, giving you more control over your gameplay. For example, you could map the paddles to the jump and reload buttons in a shooter game.
Wrap-Around Rubberized Grip
The Xbox Elite Series 2 controller has a wrap-around rubberized grip that provides a comfortable and secure hold. This is especially important for long gaming sessions.
Other FeaturesThe Xbox Elite Series 2 controller also features a number of other enhancements, including:
Hair Trigger Locks: These locks allow you to reduce the travel distance of the triggers, making them ideal for fast-paced action games.
Customizable Profiles: You can save up to three custom profiles to the controller, allowing you to switch between different configurações quickly and easily.
Bluetooth Connectivity: The Xbox Elite Series 2 controller can connect to your Xbox console or PC via Bluetooth.
Overall, the Xbox Elite Wireless Controller Series 2 is an excellent choice for serious gamers. It is a high-quality controller with a number of features that can give you an edge in your favorite games.
Thrustmaster T16000M FCS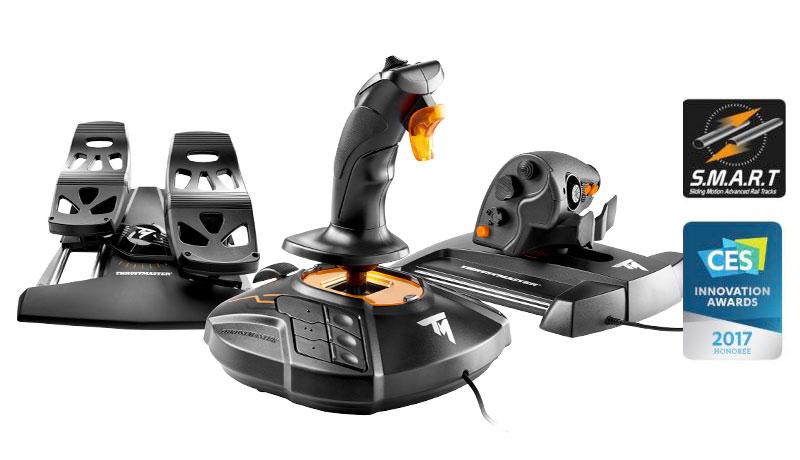 The Thrustmaster T16000M FCS is a flight stick that is designed for use with Microsoft Flight Simulator and other flight simulation games. It is a versatile and affordable option that offers a good level of realism and precision.

Features
16-bit resolution for precise control
4 independent axes, including twist rudder
16 action buttons with "braille"-style physical button identification
One 8-way Point of View (PoV) hat switch
Ergonomic trigger
Compatible with PC


STICKS FLIGHT
For those on a tight budget or with limited space, a flight stick is a fantastic option that can handle the majority of the work. You can perform all the maneuvers necessary to quickly lift off and soar through the skies with controllers like the Thrustmaster T.16000M FCS or the Logitech Extreme 3D Pro. The majority of flight sticks will also allow you to manipulate the rudders by twisting, making it simple to steer your aircraft as you navigate the runway, in addition to providing a mechanism for controlling the aircraft's throttle via a slider at its base.The precision with which a stick can assist you in monitoring the aircraft's nose is the most significant difference you can find in the experience. Using a flight stick to smoothly guide your aircraft up and down for a landing or gently drift into your turns feels more precise and realistic. There is a significant difference in fine control when comparing using your thumb on a controller to using your hand, elbow, and shoulder to move a flight stick.
Additionally, the flight stick's handle and base have more buttons than your normal game pad, which gives you much more customization. For your convenience, Microsoft Flight Simulator settings automatically map any of these buttons for you, putting vital commands like unlocking the parking brake or controlling the in-game camera closer to your side. The huge number of extra buttons allows you to customize how you fly your aircraft to the point where the flight stick alone can handle nearly every significant command.Overall, a flight stick is a great option for those who want a more immersive and realistic flight simulation experience without breaking the bank or taking up too much space.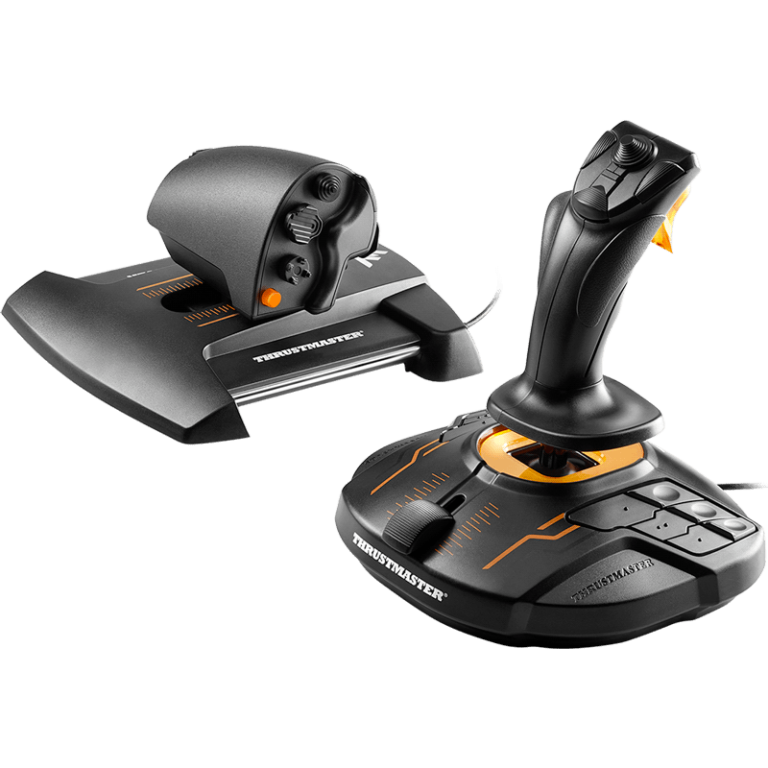 The extra buttons on the handle and base of the flight stick also give much more customization than your regular game pad.
Microsoft Flight Simulator settings automatically mapped any of these buttons for you, shifting vital commands such as unlocking the parking brake or controlling the in-game camera closer to your side. The plethora of extra buttons helps you to customize how you operate your aircraft to where the flight stick alone can handle almost every important command.

THROTTLE AND STICK (HOTAS)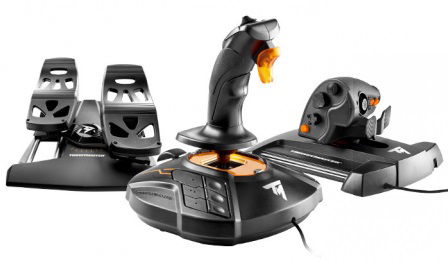 It would be like playing a racing sim with only a steering wheel just using a flight stick. You'll want fine velocity control for a more precise flight. You'll need a unique piece of hardware to power your throttle in order to do that. A throttle is the driving force behind a plane's engine, just like the pedals that power gas and brakes on a vehicle.

For flight simulator controllers, most of the choices you can find are of the HOTAS (hands on throttle and stick) type. These come with a flight stick and a throttle (detached or connected).

With dedicated control surfaces, a HOTAS setup lets you control both your speed and your direction. A dedicated throttle's precise manipulation and the extra buttons they bring amplify what you're capable of. Instead of relying on a flight stick's tacked-on slider to manage speed smoothly, a throttle imitates the power delivery accuracy required by real aircraft.

The choices for HOTAS configurations differ. The T16000M FCS Flight Pack from Thrustmaster comes with a separate throttle controller, and the Logitech G X52 does the same. A HOTAS configuration benefits from having two individual devices share the duties of holding your plane in the sky, regardless of which choice you select.

A throttle handle makes the process easy when dialing in the correct speed for a smooth landing or maintaining the required airspeed for cruising. The wide sliding surface of a throttle lets you easily control how much power your aircraft generates. As you see in the movies, you can aggressively slam it forward when you're about to take off or you can softly pull it back to float to a flawless landing.
Microsoft Flight Simulator settings automatically mapped any of these buttons for you, shifting vital commands such as unlocking the parking brake or controlling the in-game camera closer to your side. The plethora of extra buttons helps you to customize how you operate your aircraft to where the flight stick alone can handle almost every important command.

HOTAS AND RUDDER PEDALS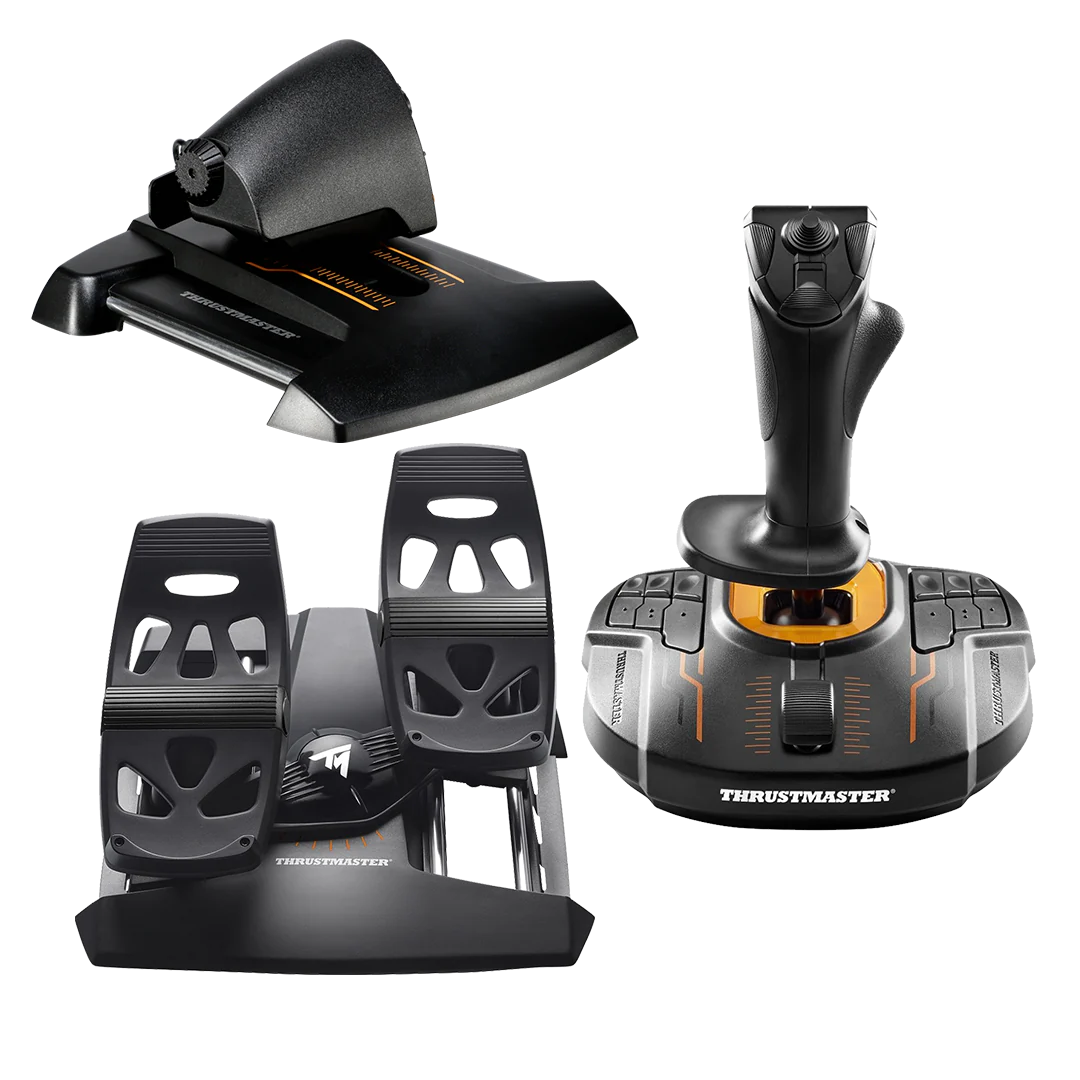 Rudder pedals are the last move (pun intended!) in filling out a complete flight configuration.

Rudder pedals, despite their presence, do not power the throttle of your aircraft. These car-like pedals manipulates the rudder flap at the back of your aircraft, and they also control the brakes. We cannot steer your plane in the air by the left and right motions of the rudder. Instead, to fight undesirable trajectories again, they apply counter-motion.

Thrustmaster's rudder pedals
These are not pedals for gas and brakes. Picture: Thrustmaster.
Your rudder pedals on the ground monitor the side-to-side movement of your aircraft, such as when you are driving around the airport. This takes a bit of getting used to as it feels natural to want to move just to veer off the runway instead of from now on the right pedal of something like Thrustmaster's TFRP Rudder.

One downside of the TFRP pedals is that they are narrow and fragile. Look at picking up the Thrustmaster TPR Pendular Rudder Pedals or the MFG Crosswind v2 if you're a larger guy, or you just want a more stable solution overall.

The Thrustmaster T16000M FCS Flight Kit, along with its throttle and flight stick, comes with rudder pedals in the box. Most HOTAS settings, however, allow you to command the tail of your plane on either the stick or throttle, so you will not feel the need for them unless you lean into the immersion.

FLIGHT YOKEE FLYING
In Microsoft Flight Simulator, very few of the virtual cockpits actually have a stick. The rest have a yoke, like the Cessna 152 that you learn to fly in the tutorial. They take up a little more space on your desk, but for civilian aviation, they are much more authentic. Right now, there are a couple of decent options on the market and we have checked two of them with significant results.

Honeycomb Aeronautical Alpha is the most highly recommended one. Not only is it an amazingly solid piece of gear, it is also fully compliant with the Flight Simulator plug-and-play. There aren't even drivers to be paid. Right out of the box. Even the ignition, power, and lighting switches operate.

Although the Alpha comes with a conventional clamp, it also comes with a nifty adhesive plate that is non-marring, which makes it ideal for almost any desk. It's in short supply, at $249.99, and costly. In order maximumly use it, you'll also need pedals and a throttle.

The Logitech G Flight Yoke System is our second recommendation. Although far more fragile than the Alpha, at $169.99, it is much more affordable. It also comes with its own throttle quadrant, ideal for twin-engine aircraft control. However, you will always need to invest in pedals.

From CH Goods comes another well-regarded flight yoke. At 149.95 dollars, it's also inexpensive and comes with its own built-in throttle. We haven't tried it with the Flight Simulator yet, but they've got a fantastic track record.

TRACKIR KIRK
Black bears in the Microsoft Flight Simulator inside Yosemite National Park
Image: From Polygon, Asobo Studio/Xbox Game Studio
Microsoft Flight Simulator has plenty of choices, both inside and outside the cockpit, to adjust your view. On a setup like the Thrustmaster T16000M FCS Flight Kit, you'll end up dedicating at least one of your different hat switches to help you look left, right, up, and down before long. But if you're an in-game pilot with a functioning neck, that will make it much simpler. Enable us to introduce you to the head-tracking system on TrackIR.

At $199.99, TrackIr is pricey, but it improves the flight experience. The same sort of infrared technology used in the Wii motion controllers is used by TrackIr. You mount to your headphones an infrared emitter and to the top of your monitor a receiver. You can then convert slight movements of your actual head into large movements of your pilot's head in the game using the calibration program.

You can quickly line up your plane for the last approach using TrackIR, find your mates in the sky during multiplayer sessions, and take in the sights while they hunt elephants and grizzly bears. In order to reach all the controls, including the fuel shut-offs and parking brakes concealed under the dash of some aircraft, you can also lean down and over. You can also stick out the window with your head and look down when you are soaring. It's the clothes before that feature launched later in 2020 that you will get to travel in virtual reality.

5 TRACKIR
You can lean forward to see over the nose during landings with Track Ir in Microsoft Flight Simulator, bend down to get a close look at your height and heading, and even position your head outside the plane entirely to get a better look at the scenery.

Amazon / $199.99 Buy
How you ride up to yourself
Although you don't need a fighting stick or a racing wheel to play battle or racing games, veterans of both genres know dedicated controls enhances the experience. It's no different to flight simulators. Microsoft Flight Simulator's magic is that everyone can jump in, learn the fundamentals, and discover the world at large. It is up to you how far into the simulation you want to go.

If you're not ready to step into a dedicated set of flying buttons, but will consider upgrading your controller, then it's a perfect option to use the Xbox Elite Series 2 controller. The customizable thumb sticks and four rear paddles not only give you the flexibility to fly your plane, but you can also play hundreds of other games with the controller.

You can use what we learned on the Thrustmaster T16000M FCS Flight Pack when you're ready to take the plunge into dedicated hardware. This three-piece kit has all you need to transform a cockpit into a desk. The flight stick, throttle, and rudder controls are much more flexible than what you will encounter with a joystick. The number of additional buttons leaves your customization experience wide open. This flight pack is a fantastic starting point if you want really dive into flight simulators and the immersion that dedicated hardware provides.
The article was written by Amit Caesar
Here are some exciting new articles you don't want to miss!
Here are the links to my social media pages:
Facebook: [link]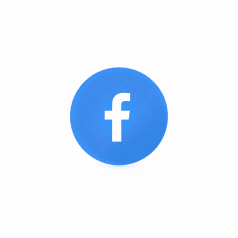 YouTube: [link]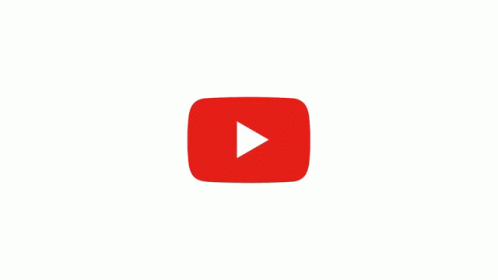 LinkedIn: [link]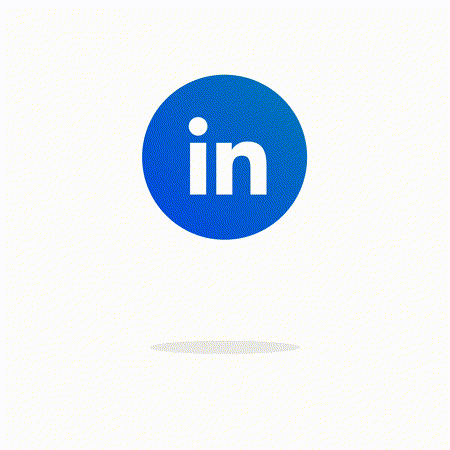 Twitter (x): [link]