Rapid implementation of online simulation during COVID-19 vr/ar
Faced with the COVID-19 outbreak organizations around the world, all face-to - face classes have cancelled. Exams are being postponed and educators are struggling quickly convert online learning resources. However, the most difficult of these challenges may be the sudden inability to meet clinical requirements.
Oxford Medical Simulation (OMS) appreciates how difficult it is to deliver simulation and clinical education at the best of times, let alone during a crisis. As simulation educators, the WHO team experienced the chaos caused by last-minute clinical cancellations and the need for rapid simulation to fill the gap.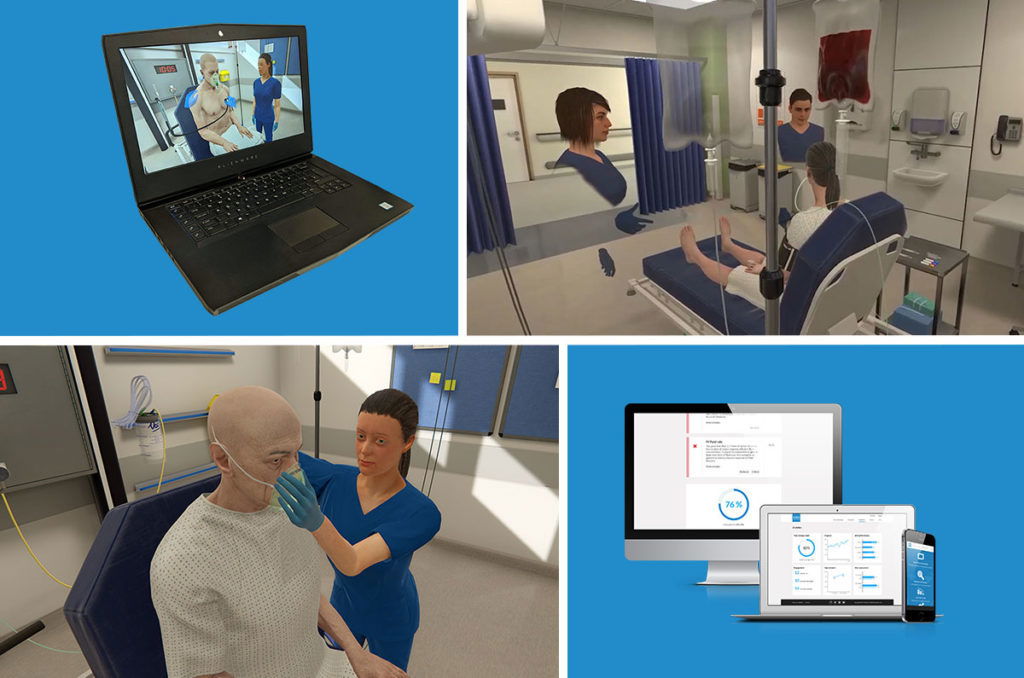 The same phenomenon is taking place on a global scale. In response, WHO immediately offered the WHO Distance Simulation Platform free across the United States, Canada and the United Kingdom as of 16 March 2020.
Why? Why? Well, as one of the WHO education specialists points out:
"We are the same people, educators and people who ultimately care about the patient's lives. It's a chance to train nurses and doctors when they need it most ... that's why we got into it in the first place! "
WHO Program for Distance Simulation
The OMS virtual simulation platform operates both in immersive virtual reality (using a VR headset) and as a screen-based simulation using a learner's own PC or laptop (no VR equipment required). It's, in fact, one platform delivered in two different ways.
Scenarios are just as interactive and dynamic, whether on the VR or on the screen. This ensures immediate scale and accessibility during social distances and the ability to switch to fully immersive virtual reality as required.
WHO has hundreds of cases across medicine and nursing, dynamic scenarios, fully automated feedback and debriefing tools, embedded blended learning resources and simple methods to integrate with curriculum requirements? They offer all of this free, with no ongoing commitment, until 31 May 2020.
Uptake of WHO Distance during COVID-19
Since May 16, over 50 institutions-with over 17,000 learners-have signed up. Many have already started using the platform, and they will launch many more in the coming days. I did this at all levels of medicine and nursing and most times of use:
Nursing programs (BSN and NP) which cannot deliver clinical placements
Medical programs (DO and MD) are fast tracking their learners for clinical practice.
Hospitals, upskilling clinicians who move between departments
Health systems, bringing new nurses and retraining clinicians back to practice.
Implementation and integration of online simulation
Organizations use WHO Distance in a variety of ways. Many are providing home learners. This may be for just-in-time simulation for those returning to practice, or in schools and colleges, by assigning learners to specific scenarios at different times to align with the curriculum requirements. Educators can then asynchronously debrief through a videoconference, using automated feedback and case-reflection of the learner as a debriefing springboard.
Others use OMS Distance for group learning-with learners going through the same scenario then group debriefing and case teaching at a videoconference. This allows for more team discussion of cases and the ability to review labs, imagery and ECGs as a class.
Others are limiting what they expect learners to do in a scenario-asking them to perform only the history and physical examination of clinical scenarios, using this as a clinical experience structured with more junior learners in mind.
There is no 'correct' way to use the WHO system, which makes the platform versatile enough to fit any program's objectives.