The best virtual reality games in 2021 are definitely a year for some promising virtual reality titles, there's nothing like an eye mirror, so let's move on to the games.
Astro Bot Rescue Mission
$39.99
PlayStation VR
In this action game, you must save your teammates who scattered in space. The game offers 20 different main levels and 26 challenge levels. The game certainly entertains for a long time. The game offers 360-degree worlds and various weapons, including throwing stars, a water gun, and more.
Beat Saber
$19.99
HTC Vive, Oculus Rift, PlayStation VR, Windows Mixed Reality
Beat Saber is a rhythm music game with an active twist. The setup is like other music games, such as Audio surf, Guitar Hero, and Rock Band, but instead of controlling virtual guitar or fake devices, you cut your way through virtual laser swords. Beat Saber produces unique patterns of on-screen encoded blocks, and you must hit with the right controller (right or left) as they slide. There are also obstacles that appear at different times and force you to bend.
Danger Goat
$5.99
Windows Mixed Reality
Goat's life has never been easier. As you can experience firsthand, it's a kind of simulator. This is a strange but interesting game, you can use traps, missiles, and whatever is in their way to advance in the game.
Farpoint
$19.99
PlayStation VR
A showcase of PS4 V4 capabilities and the first game to use PS VR AIM, a gun-shaped controller specifically designed for first-person games. At Farpoint, you must survive encounters with a deadly enemy in a dangerous alien environment, to find out what happened to the rest of your research team.
I Expect You To Die
$24.99
HTC Vive, Oculus Rift, PlayStation VR, Windows Mixed Reality
In the game, I expect you to die, your spy who must escape a series of life-threatening situations before time runs out. You have your wits, problem-solving skills, and telekinesis.
Moss
$29.99
HTC Vive, Oculus Rift, PlayStation VR, Windows Mixed Reality
In this magical adventure game, you accompanied by a mouse named Moss, who, after accidentally evoking ancient magic in the forest, must go on a quest to save the situation. Along the way, you encounter puzzles, enemies, and impressive animation and effects The game is suitable for players of all ages.
No Man's Sky
$59.99
HTC Vive, Play Station VR
The basic purpose of the game is to get to the center of the universe, you can explore countless planets of the game created by how you want, building a base, and also space wars.
Project Cars 2
$59.99
HTC Vive, Oculus Rift
Car Project 2 gives you a seat in the driver's seat of a realistic car, a racing circuit. The game really restores the feel of the actual world to the last detail, the vehicle, for example, looks great, even the weather is definitely a car game that every racing enthusiast must ..
Rez: Infinite
$24.99
HTC Vive, Oculus Rift, PlayStation VR
The classic cult game is now available for VR platforms. The story of a computer virus (Swayzak) that goes on a mission through a network of systems called Project-K to save Eden (the AI control system) from self-destruction.
Space Junkies
$39.99
HTC Vive, Oculus Rift, PlayStation VR
Junkies' Ubisoft is an arcade that takes place in space. In the game, you fight enemies with futuristic weapons in orbital arenas.
Space Pirate Trainer
$14.99
HTC Vive, Oculus Rift, PlayStation VR, Windows Mixed Reality
Perfect arcade on the VR platform. In the game, your mission is to shoot down enemies, in the game there are many weapons and weapons upgrades, remember that you can not get very far without actively engaging in the game. Avoid the physical attacks and avoid incoming attacks.
Subnautica
$24.99
HTC Vive, Oculus Rift
Subnautica is an adventure that is happening soon. After crashing a passenger plane on an ocean planet called 4546B, they leave you stranded on the island, called the quarantine enforcement platform. They give you instructions on how to escape the planet, but before doing so you must disable the security system. In the meantime, you must also maintain your character's health and build tools and infrastructure from the 4546B marine environment. As you progress, you will discover more of the ancient narrative of the planet.
Tetris Effect
$39.99
PlayStation VR
The Climb
$39.99
Oculus Rift
The climb is an outstanding example of using VR effectively translate a real-world experience. The Climb, roughly based on Vietnam's Halong Bay, while the North takes inspiration from the Arctic Circle. Wherever you choose, Crytek's engine can create spectacular views.
The Lab
Free
HTC Vive, Oculus Rift, Windows Mixed Reality
Have you ever wanted to visit Aperture Labs after completing Portal 2? Valve brings you back there and big time.
The Talos Principle VR
$39.99
HTC Vive, Oculus Rift, Windows Mixed Reality
If intellectual puzzle games do this to you, get ready to sink many fun hours into the Talus VR principle. In the game, you play as an intelligent, anthropomorphic robot tasked with navigating dungeons and obstacles to a series of mysterious environments laden with modern technology.
Virtual Reality, Augmented and Artificial Intelligence 2021 specialist Amit Caesar wrote the article.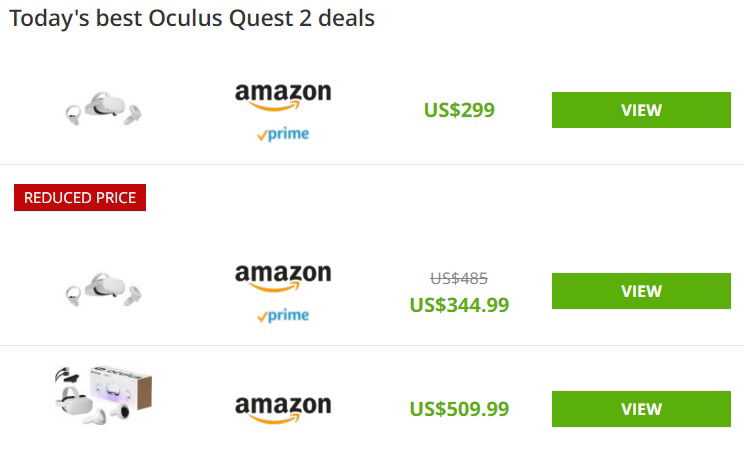 You should also check out the following articles:
Subscribe now to our YouTube channel
Subscribe now to our Facebook Page
Subscribe now to our twitter page
Subscribe now to our Instagram

Subscribe To my personal page on linkedin
Subscribe To my personal page on tiktok page for those who love to dance :)
Don't forget to be my friend. Sign up for my friend's letter. So I can tell you ALL about the news from the world of VR&AR, plus as my new friends I will send you my new article on how to make money from VR&AR for free.