The COVID-19 pandemic has changed the world like no other event. People learned to live in self-isolation at home, work from home, shop from home, and even have fun at home. At the heart of mitigating the huge disruptions in our lives are immersive technologies. There is no doubt about it, the global pandemic has led to an AR/VR accelerated adoption at all levels: individual and business.
In this article, we will cover some of the most salient data emerging from surveys and market research reports that looked at the ways in which extended reality has influenced people's lives during the pandemic. Also, we will present some of the most reliable predictions concerning the evolution of AR/VR accelerated adoption in a post-pandemic world.
The Biggest Trend Notable in Analyzing AR/VR Accelerated Adoption: Spending
We can always discuss the role of AR/VR in people's lives and in the daily operations of businesses. We can even present various use cases. However, we could say that spending on immersive technology products and content is the clearest sign of the AR/VR accelerated adoption at the global level.We have consulted several reports prepared by reputable market research companies, and extracted the most relevant data on this topic. Here are some of our findings based on these reports:
1. Europe Slowed Down, But Is Powering the Spending Engines
Countries in the European Union bloc have indicated a decrease in AR/VR spending in 2020. However, 2021 promises to indicate the biggest AR/VR accelerated adoption rate from the point of view of spending.According to a report prepared by the International Data Corporation, European spending on extended reality products and services will reach $2.8 billion in 2021, an 88.6% increase from the previous year. This accelerated adoption will continue until the end of the forecast period – 2025 – reaching a total spending value of $20.9 billion.
2. US Consumers Are Driving the AR/VR Accelerated Adoption Rate
In the United States, consumers are showing that the COVID lockdown has had one positive impact: a better understanding of how AR/VR works followed by discovering its benefits.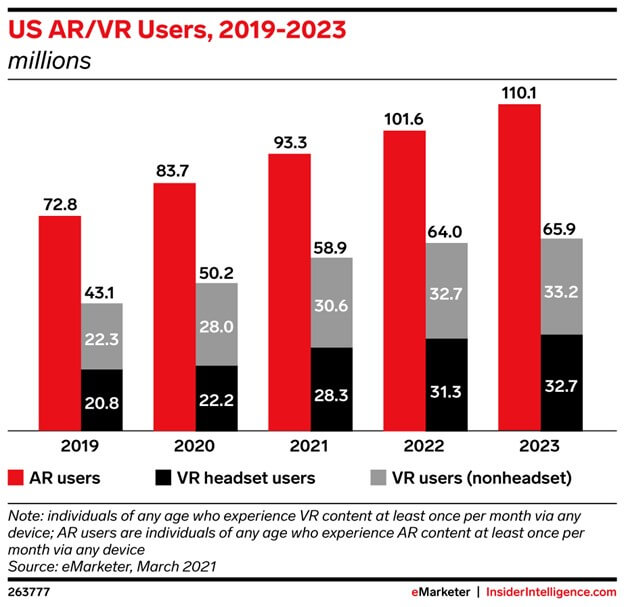 Augmented reality is the most popular immersive technology with 93.3 million users, compared to 58.9 million VR users. By 2022, according to eMarketer, AR users in the US are expected to reach the number of 101.6 million.
3. Global Immersive Technology Spending Grows Slowly, but Steadily
Global spending on AR/VR is not expected to match the trend set by AR/VR adoption rate at the European level. However, Grand View Research suggests that neither companies, nor consumers will not slow down the adoption rate.On the contrary, the global virtual reality market's compound annual growth rate (CAGR) from 2021 to 2028 will be 18%. At the present, the total value of AR/VR spending is $15.81 billion.
4. AR/VR Accelerated Adoption Is Also Visible in Monetization
In a survey conducted by Perkins Coie in 2020, before the pandemic, the biggest trend noted among decision-makers in the business sector was the diversification of monetization strategies in the future. The most popular ways of monetization that were identified included the sale of products or subscriptions, in-app purchases, product placement within immersive experiences, in-app advertising, and charging for access to live events.Their latest survey, conducted in April of this year, shows that the main monetization strategies pretty much stayed the same compared to before the pandemic. However, two strategies saw an increase of 3% compared to the previous year, namely in-app purchases and in-app advertising, which is clearly connected with the AR/VR accelerated adoption during the pandemic.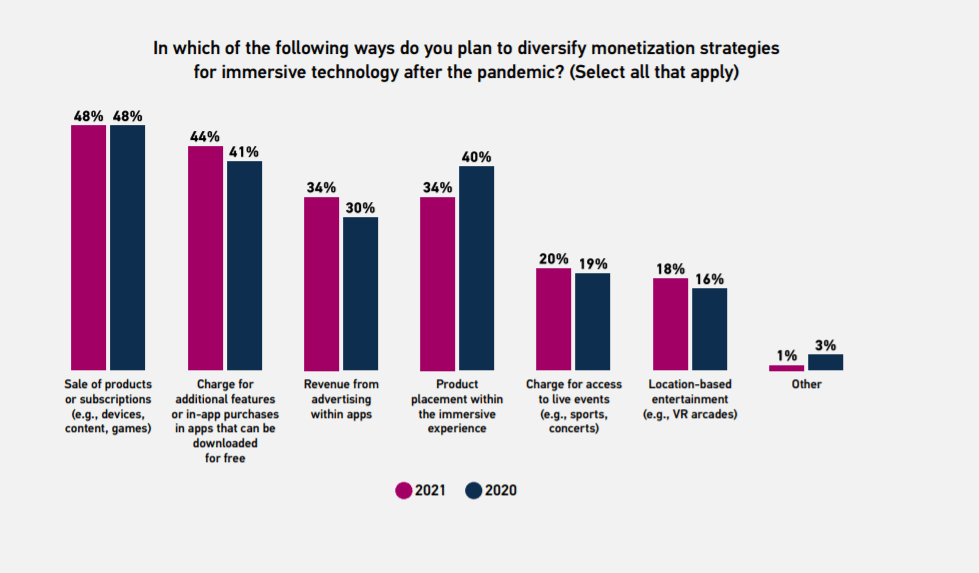 "Sales of products and in-app purchases are going to reign supreme with the growing consumer market that has been helped by COVID-19 quarantine restrictions," said one of the survey respondents.
5. Global Spending Will Grow Even in a Post-Pandemic World
Although the COVID pandemic is not yet over, we will eventually completely overcome it. However, this will not affect the AR/VR accelerated adoption rate. According to a report prepared by Research and Markets, the global spend on immersive technologies will reach the value of $1,274.4 billion by 2030, with a CAGR of 42.9%.
This is a clear sign that AR/VR will continue to play a key role in our lives. We will never return to the old normal. Many employees will prefer to continue working from home. And many businesses will want to continue training and managing their teams remotely, using interactive and immersive technologies.We believe that in every event, no matter how negative, there must be a silver lining. For us, the AR/VR accelerated adoption rate is the silver lining in the challenging times we have experienced since the spring of 2020.
Stay up to date with the latest VR and AR news!
You may also be interested in our YouTube channel
You may also be interested in our Facebook Page
You may also be interested in our twitter page


What are your thoughts? Please let us know in the comments section below!