What is augmented reality, anyway? The foundation of an Augmented Reality Marketing strategy is to embed marketing content within a customer's environment. Alternatively, it can be thought of as a marketing or sales strategy designed to improve consumer interaction with brands and the return on purchases.

The Main Benefits.Many proponents of augmented reality marketing claim that augmented reality can increase sales, generate consumer engagement, and establish brand value. What benefits do the companies give? How are they using these tactics?

Trial before you buy. Using augmented reality, trying something on looks different. Consumers can select from a wide variety of products without a company needing to perform frequent sales.

Augmented Branding Materials;Augmented reality marketing allows for material from a branded company to scan, viewed, and virtualized to make static elements more dynamic. A business card can scan in a variety of contact options, and a brochure can convey information by using video.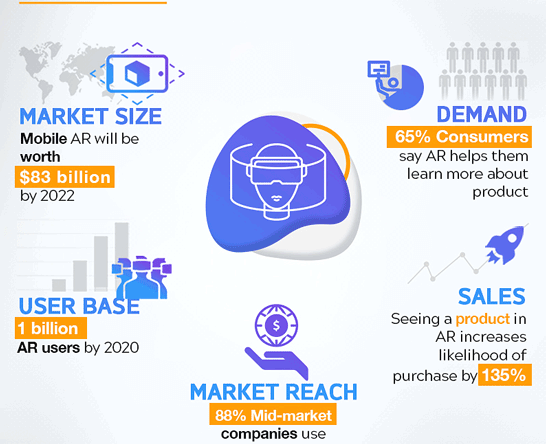 Brand Buzz via AR techniques.Sales and marketing strategists can also use augmented reality. By creating a fun Augmented Reality experience, brands can spark much-needed interest. For example, Uber has used Augmented Reality in a fun way, which resulted in over one million views on YouTube. Other companies like Coca-Cola have also used Augmented Reality in indirect advertising strategies.

Personal Interactive Experiences That are Immersive and Engaging.Augmented reality marketing allows people to give a personal touch to online content by providing them with custom-made mobile apps and other materials. Study the example of in-store purchases. Using a smartphone AR application, consumers can access the latest prices on sale and know when promotions are being offered.

AR content can drive value for marketers by creating content that matches the unique needs of each targeted consumer.
Help consumers make buying decisions. The purpose of AR is to measure engagement. Brands that use new technology that is surprising to customers are their first choice.

The future looks great for AR marketing, as it's being used in combination with machine learning and IoT technology (IoT).
Augmented reality has more potential in other areas than just being used for gaming and entertainment. It defines solutions for how to move product and develop marketing strategies. Forward-looking retailers and brands could use the model to offer consumers personalized experiential services.
Written and edited by Amit Caesar for Virtual Reality Israel, 2013