Take Your Virtual Reality Flight Simulator Experience to the Next Level:
Microsoft Flight Simulator is a masterpiece that combines stunning visuals with unparalleled immersion. But why stop there? With the right accessories, you can take your virtual flying experience to the next level.
VR Headset
A VR headset is the single most important accessory for enhancing your virtual flying experience. It fully engulfs you in the virtual world, making you feel like you're actually sitting in the cockpit. The sense of presence and immersion is unparalleled.
Force Feedback Yoke
A force feedback yoke mimics the physical sensations of flying, providing a tactile connection to the virtual aircraft. Feel the resistance of the controls as you maneuver through the skies, adding an extra layer of authenticity to your virtual flying adventures.
Rudder Pedals
Rudder pedals allow you to control the rudder of the aircraft, which is essential for precise flying. They also add to the sense of immersion, making you feel like you're actually controlling the aircraft.
Motion Platform
A motion platform simulates the movements and vibrations experienced during flight, giving you a truly dynamic and exhilarating experience. Imagine feeling the rumble of the engine beneath you and the subtle shifts in G-forces as you perform daring maneuvers.
With the right accessories, Microsoft Flight Simulator transcends the boundaries of a mere game and becomes a breathtaking journey into the world of aviation.
So whether you're a seasoned pilot or an aspiring enthusiast, these enhancements will take your virtual flying adventures to new heights. So buckle up, don your VR headset, and prepare for an extraordinary flight experience that will leave you questioning the line between virtual and reality.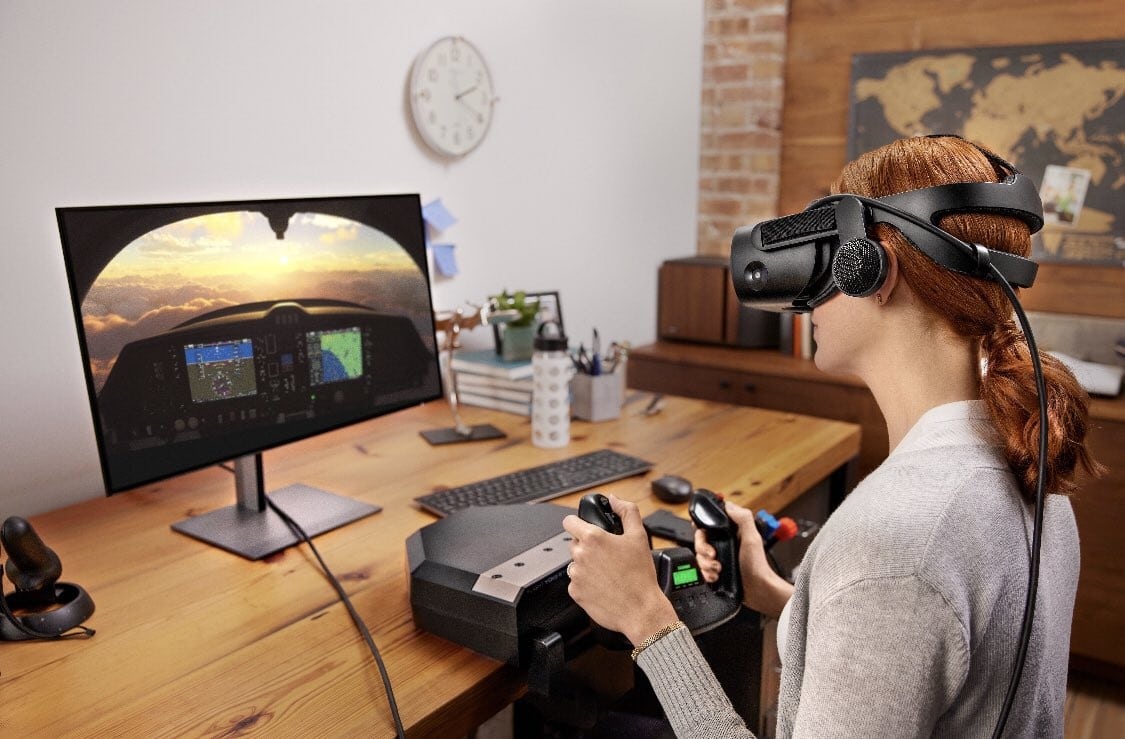 Microsoft Flight Simulator and its accompanying accessories will transport you to a world where the sky is no longer the limit. Get ready to soar like never before.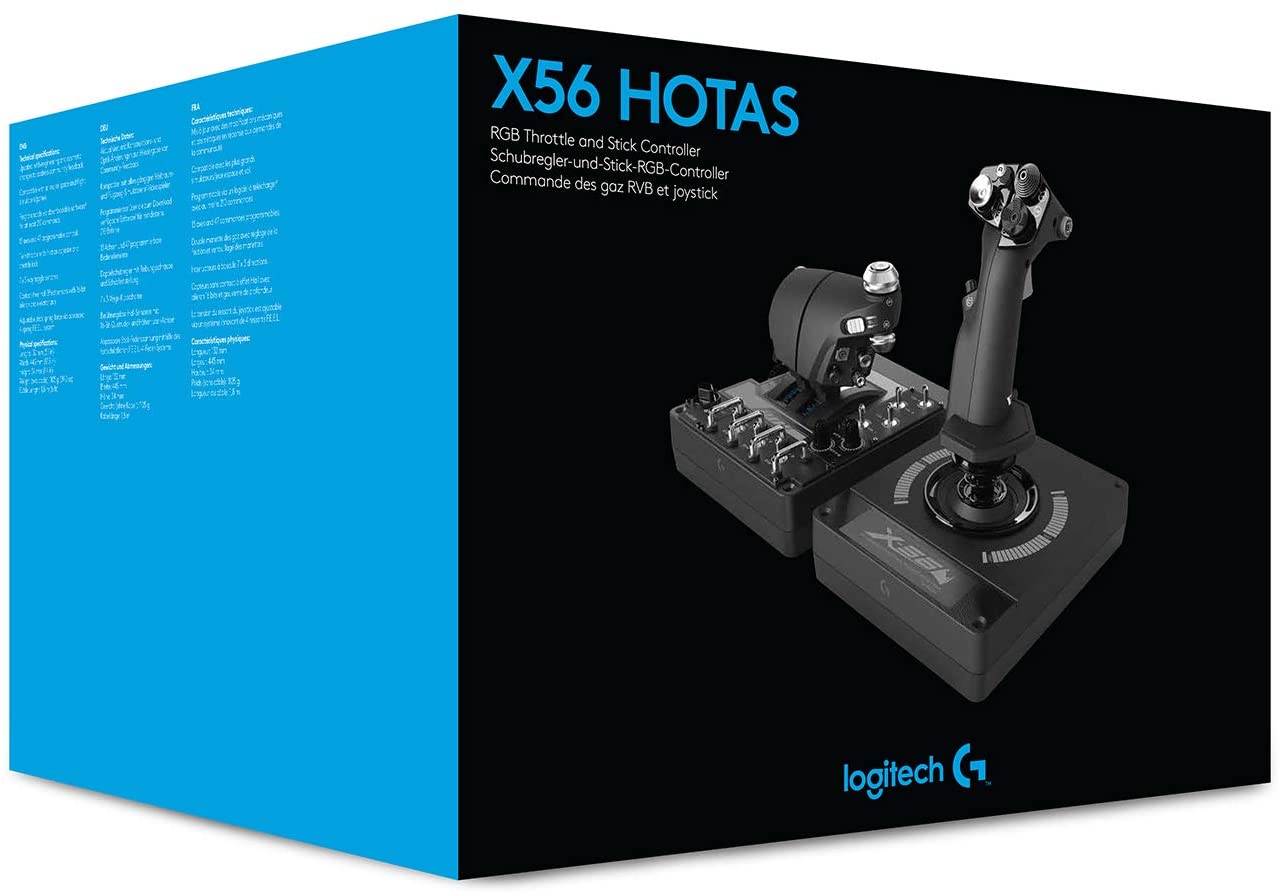 1. Why you should buy a joystick for your flight simulator?
A joystick is a great way to improve your flight simulator experience. It gives you more control over your plane than a keyboard and mouse, and it's more similar to what real pilots use.
Joysticks have three axes of control: pitch, roll, and yaw. Pitch controls the nose of the plane up and down, roll controls the plane from side to side, and yaw controls the plane's rotation.Joysticks also have analog controls, which means that you can make subtle movements with them. This is important for flying a plane accurately, as you need to be able to make small adjustments to the controls.
The Logitech G X56 H.O.T.A.S. RGB Throttle and Stick Simulation Controller is a great option for a joystick. It has 12 programmable buttons and a built-in throttle, so you have all the controls you need within reach.If you have a larger budget, you could consider a more advanced joystick, such as the Thrustmaster Warthog HOTAS. This joystick is made to replicate the controls of a real fighter jet, so it's perfect for those who want the most realistic experience possible.No matter what your budget or experience level, there's a joystick out there that's perfect for you. So why not give one a try and see how it improves your flight simulator experience?Here are some additional benefits of using a joystick for flight simulator:
More precise control: A joystick allows you to make more precise movements than a keyboard and mouse. This is important for flying a plane accurately, as you need to be able to make small adjustments to the controls.
More immersive experience: Using a joystick can make the flight simulator experience more immersive. This is because you have a physical object to interact with, which can help you feel more connected to the game.
More fun: Using a joystick can make flight simulator more fun. This is because it can be more challenging and rewarding to fly a plane with a joystick than with a keyboard and mouse.
If you're looking to improve your flight simulator experience, then a joystick is a great option. There are many different joysticks available, so you can find one that fits your budget and needs.
There are many places where you can buy a joystick for Microsoft Flight Simulator. Here are a few of the most popular options:
2.The best headsets for Microsoft Flight Simulator:
When playing Microsoft Flight Simulator, it's important to have a good headset to fully immerse yourself in the experience. A good headset will provide clear audio, including the sound of the engines, the bump and rattle of takeoffs and landings, and the patter of rain on the windshield.There are many different headsets on the market, so it's important to choose one that fits your needs and budget. Some factors to consider include:
Type of headset: There are two main types of headsets: wired and wireless. Wired headsets are generally less expensive, but they can be more restrictive. Wireless headsets offer more freedom of movement, but they can be more expensive.
Audio quality: The audio quality of a headset is important for immersion. Look for a headset with clear audio and good bass response.
Comfort: A comfortable headset is essential for long gaming sessions. Look for a headset with a soft headband and earcups.
Here are a few of the best headsets for Microsoft Flight Simulator:
For purchase on ebay.com

3. The best monitors for Microsoft Flight Simulator:
The monitor you use to play Microsoft Flight Simulator has a big impact on your experience. A good monitor will make the game look its best and help you stay immersed in the world.Here are some factors to consider when choosing a monitor for Microsoft Flight Simulator:
Resolution: The resolution of the monitor is the number of pixels it can display. A higher resolution will give you a sharper image.
Refresh rate: The refresh rate is the number of times per second the monitor can update the image. A higher refresh rate will give you smoother visuals.

Panel type: There are three main types of panel types: TN, IPS, and VA. TN panels are the cheapest, but they have the worst image quality. IPS panels have the best image quality, but they are more expensive. VA panels offer a good balance of image quality and price.
Curved vs. flat: Curved monitors can provide a more immersive experience, but they are not as common and can be more expensive.

Here are a few of the best monitors for Microsoft Flight Simulator:

MSI Optix MPG341CQR: This monitor has a 3440x1440 resolution, a 144Hz refresh rate, and a curved VA panel. It also has a 1ms response time and HDR support.
Asus TUF Gaming VG27AQ: This monitor has a 2560x1440 resolution, a 165Hz refresh rate, and an IPS panel. It also has a 1ms response time and FreeSync support.
Samsung Odyssey G7: This monitor has a 3840x2160 resolution, a 240Hz refresh rate, and a curved VA panel. It also has a 1ms response time and G-Sync support.

No matter which monitor you choose, make sure to do your research and find one that fits your needs and budget. With a good monitor, you can truly immerse yourself in the world of Microsoft Flight Simulator.Here are some additional tips for choosing a monitor for Microsoft Flight Simulator:

Consider your budget: Monitors can range in price from a few hundred dollars to a few thousand dollars. Choose a monitor that fits your budget and your needs.
Think about your other uses: Will you be using the monitor for anything other than Microsoft Flight Simulator? If so, make sure to choose a monitor that has the features you need for those other uses.
Read reviews: Read online reviews to see what other people have to say about the monitors you're considering.
Try it out: If possible, try out the monitor before you buy it. This will help you make sure that it's comfortable to use and that you like the image quality.
you can buy A Superb Monitor - Microsoft Flight Simulator from:

4. Thrustmaster F-16C Viper HOTAS Add-On Grip (Windows) - Microsoft Flight Simulator
An extension of the power provided by a typical joystick is H.O.T.A. S, or hands-on throttle-and-stick. It provides you with the same power with three axes, but with a far more complex and robust throttle system.

For improved control, it also includes its own buttons and switches and the option of additional customizable key mapping as well.

There is a sliding scale of quality depending on your budget and personal requirements, like any other Microsoft Flight Simulator accessory, but the Thrustmaster T.16000M Hotas Flight Stick and Throttle is a fantastic starting point that does not compromise on quality.

It employs the same underlying technology as the more high-end versions from Thrustmaster, but at a fraction of the price. It involves four-axis control, in any direction, and precise, linear control.

The throttle of the Thrustmaster Arm Control System allows gamers the ability to fine-tune speed even more precisely than a keyboard and mouse, and with a smoother, more satisfying motion than the throttle control installed by a joystick.

Its ergonomic nature is both comfortable and supportive, making it ideal for long-haul flights and faster engagements where you always need to fill the throttle to get your aircraft's optimum performance.

Thrustmaster also employs its excellent tracking and high-accuracy joystick control in its Warthog HOTAS if you have more to invest. For those who want a more real-life flight sim accessory, this Flight Sim controlled features a more professional, utilitarian look.
Life-size (1:1 scale) replica of the real F-16C Viper flight stick.
100% metal design incorporating durable, industrial-grade materials for an authentic feel and maximum product lifespan.
19 action buttons plus one 8-way "point of view" hat switch.
Native integration in the game DCS via the dedicated DCS: F-16C Viper module (game and module sold separately), and compatible in all other flight simulation games.
Compatible with three joystick bases in Thrustmaster's flight simulation ecosystem: HOTAS Cougar*, HOTAS Warthog and HOTAS Magnetic Base (all sold separately; * button 19 is inactive on the HOTAS Cougar).
you can buy Thrustmaster F-16C Viper HOTAS Add-On Grip (Windows) - Microsoft Flight Simulator at:

5. A Mighty Flight Sim PC - Microsoft Flight Simulator
9th Generation Intel Core i7 9750H 6 Core Processor (Up to 4.5GHz) with Windows 10 Home 64 Bit
NVIDIA Ge Force GTX 1660 Ti Graphics with 6GB of dedicated GDDR6 VRAM
15.6 inches Full HD (1920 x 1080) Widescreen LED back-lit IPS Display (144Hz Refresh Rate, 3ms Overdrive Response Time, 300nit Brightness and 72 percentage NTSC)
16GB DDR4 2666MHz Memory, 256GB PCIe NV Me SSD (2 x PCIe M.2 Slots; 1 Slot Open for Easy Upgrades) and 1 Available Hard Drive Bay
Back lit Keyboard; LAN: Killer Ethernet E2500 10/100/1000 Gigabit Ethernet LAN; Wireless: Killer Double Shot Pro Wireless AC 1550 802. 11ac; 4th Gen All Metal Aero Blade 3D Fan
you can buy A Mighty Flight Sim PC - Microsoft Flight Simulator at:
6. Microsoft Flight Simulator - Pedals for Flight Rudder pedals
are an aircraft controller that flight sim fans too frequently forget, but they can add a surprising amount of immersion to your experience with the Flight Simulator.

They give you the opportunity to monitor the taxiing of your aircraft with your feet on runways-a much more lifelike experience than turning a yoke or joystick-and when playing without your dampening, they really come in handy.

Some of the most beloved of all pedal accessories are the Logitech G Pro Flight Rudder Pedals, which complement the yoke, throttle, and other Logitech peripherals.

They are fully adjustable for whatever size your feet might be and also have a tension change wheel so that for extra support you can absolutely rest your feet on them, or make them feather-light for fine control. They also include left and right toe brakes, perfect for fine control during takeoff and landing.
Smooth and accurate self-centering rudder pedals add another layer of realistic control to your flight simulation setup
Whether you prefer the lighter response of a small aircraft or the more robust feel of a heavy jet, a simple twist of the Adjustable Tension Dial will have you flying your way.
Differential Toe Brakes deliver the full control you need when bringing your aircraft up to its stand on the runway
you can buy Microsoft Flight Simulator - Pedals for Flight Rudder pedals at:

7. Panel Flight Turn - Microsoft Flight Simulator
Nothing feels as satisfying as flicking switches and clicking actual keys, but a lot of the tactile feel is missing from digital sports. However, with Flight Sims, with a flight turn screen, you can adjust that.

They have toggle real-world switches, turn on everything from the different avionic lights, to the master ignition switch, lift and lower the landing gear, and much more.

At the end of 2020, support for switch panels in the new Microsoft Flight Simulator limited, so you need to make sure that some measure of official (or unofficial) support has given to everyone not designed to work with the game.

One that we can guarantee that works as expected is the Logitech Flight Switch Pad, one of the most common solutions for other flight sims, too (formerly Saitek Flight Switch Panel). It includes 13 adjustable switches, a level of up and down gear, built-in lights, and a magneto dial with five positions that allow you to control the magnetos in your different engines individually.

If that excites you more than it confuses you, a Flight Sim controlled switch panel might really boost your experience with the Flight Simulator.
The panel specially designed to support the Honeycomb and Saitek/Logitech Yoke.
Compatible with Saitek Logitech and Honeycomb yoke, Saitek Logitech flight panel.
Made of aluminum alloy, light and stable after locking.
Include LDE lamp and control switch use USB port.
They fix the panel to the edge of the table by 3 lockable brackets.Clamping range 0.5-2.2 inch.
you can buy Panel Flight Turn - Microsoft Flight Simulator at:
8. Trackers for Head and Eye - Microsoft Flight Simulator
one of the few real downsides of using a comprehensive selection of Flight Simulator accessories is that when you choose to look out a window or display a dial that is just out of reach, you lose immediate access to the easy and intuitive view control of a mouse.

By providing a more realistic way of looking around your in-game, head and gaze tracking will revolutionize your gaming experience.

With bespoke hardware for the job, the more common way to do so is.

TrackIR 4 and 5 (they're a little hard to find at the time of writing because of the popularity of Flight Simulator) and Tobii's various eye trackers are common solutions there, as they give your industry-leading precision in tracking head and look.

There is no formal support, but users have both collaborated with Face Track No IRIR (it also works with standard webcams, though with a lesser accuracy).

You can also achieve a similar effect with your phone and the Open track software if you have a smartphone with a depth-sensing camera (like an iPhone X or 11). You will find a guide here on how to do exactly that.
Single wear: Only one sensor on the head can realize full-scale true 6-axis (6DOF) tracking, wearing no attached sensors
True 6-axis: The 6-axis data solved by a single algorithm using a special algorithm. The transition is smooth and natural. The non-castration version converted into a false 6-axis.
Simple setting: After installing the software, inserting the head sight, and wearing the sensor, you only need to set it up in three simple steps
One-button calibration: sit the head sensor at the receiver, press F12 to center it, without complicated settings and calibration
No need for charging: USB power supply, no need to charge, can used after booting, not affected by battery life
you can buy Trackers for Head and Eye - Microsoft Flight Simulator at:

9. Headset VR - Microsoft Flight Simulator
Virtual reality can be one of the best ways to play a variety of genres of sports, but few can be as successful as cockpit games. When you're actually in the game, you need little room, you can stay seated, and you can look all around you-no bespoke head tracking required.

At the time of publishing, the only drawback of virtual reality is that in-game support isn't there yet. However, it promised by Microsoft by the fall of 2020, so it should be just around the corner.

The HP Reverb G2, a headset that was developed in collaboration with both Valve and Microsoft, is the first headset to receive official support for the Flight Simulator. With groundbreaking resolution and inside-out-tracking characteristics, its super top end.

It, too, is not yet completely available, but it is coming soon. Other headsets would presumably also receive help, but nothing has yet confirmed.

Photo of the VR headset HP Reverb G2 for Flight Sim
Ultimately, a PC update could be the best option.
Until that's verified, it's best not to fork out just for Flight Simulator for a VR headset, as they can be very pricey, but in the meantime consider a PC upgrade.

VR headsets bring a whole new level to demand, just as taxing as high-resolution gaming is. You not only need to attain incredibly high resolutions (4,320 x 2,160 on the Reverb G2), but you also need to achieve comfortable frame rates of about 90Hz.

You'll need a truly innovative gaming PC for that. Nothing else can otherwise even come close to power it.

Get in touch with one of our many specialists and they will help put together a PC that is well tailored to all your needs for Flight Sim!
you can buy Headset VR - for Microsoft Flight Simulator at:
Amit Caesar wrote the article.
If you enjoyed my content, I would appreciate it if you could subscribe to my YouTube channel and follow me on social media. Thank you for your support, and I look forward to exploring the concept of technological singularity with you.Here are the links to my social media pages:
More News: